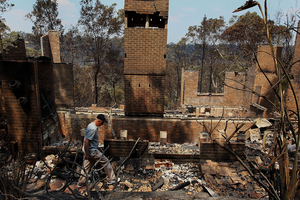 Pets, spare clothes, photo albums, computer equipment and important documents.
They're the main items residents in NSW's lower Blue Mountains are busily packing in readiness to flee if fire conditions worsen.
More than 200 homes have now been lost in the fires around Springwood which took hold on Thursday.
Residents in suburbs near the firefront have been taking stock of what they will take with them if the fires flare up again. Some residents want to stay and defend their properties.
Matt Stephens and his family live on 2ha in the picturesque Sun Valley, about 1km from the fire which claimed many homes in Yellow Rock.
There's only one road in and out of Sun Valley, but Stephens is confident he's done all he can to save his home.
"I went out and bought a new water pump yesterday and spent about four hours getting it set up so we can get water from the dam and the swimming pool.
I've cleared every bit of leaf litter I can find. We have about 50m of lawn at the back of the house and the front basically goes straight on to the road, so I'm hopeful [things will be alright]."
His wife Catherine, their young boys and pet dog will evacuate as soon as any fire threatens the area, but he plans to stay, putting out any spot fires and hopefully bunkering down if the firefront hits the house.
- AAP