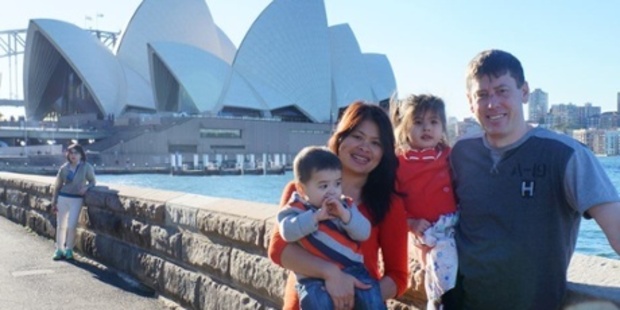 A Sydney family of four including two young children is among six Australians feared dead after a plane crashed into the Mekong River as it was coming into land in bad weather in southern Laos.
The Lao Airlines flight crashed on Wednesday, apparently killing all on board, including passengers from 11 countries, the Lao government says.
The Australian victims are reported to be from two families - a tax consultant from Sydney, his wife and their son and daughter, as well as an aid worker and his son.
In a statement issued from the email of Sydney's Etlanda Taxation and accounting services, the Rhodes family asked all members of the press to "respect their privacy at this difficult time''.
"`We will not be providing comment or information. Any interview requests will be declined,'' the brief statement reads.
The statement includes a photograph of Gavin Rhodes, 39, Phoumalaysy (Lea) Rhodes, 35, with their children 17-month-old Manfred Rhodes and three-year-old Jadesuda Rhodes.

The Department of Foreign Affairs in Canberra has confirmed six Australians are thought to have been aboard the flight that came down 8km from Pakse.

A DFAT spokesman says the Australian embassy has been told not to expect any survivors.

"We understand there were six Australians listed as boarding a Lao Airlines flight from Vientiane to Pakse that crashed,'' the spokesman said.
"Australian consular officials are in contact with the families of those thought to be on the flight.

"Lao authorities have told our embassy in Vientiane they do not expect any survivors.''

Lao officials say 44 passengers and five crew members were aboard flight QV301 from the Lao capital to Pakse.

"Upon preparing to land at Pakse Airport the aircraft ran into extreme bad weather conditions and reportedly crashed into the Mekong River,'' the Lao government said in a statement.

The airline flies an ATR-72 twin-engine turboprop plane on the 467km route.

An unconfirmed passenger list suggests that more than half of the people aboard were foreign nationals, including those from France, South Korea, the US, China, Taiwan, Vietnam, Canada and Malaysia. Some 17 people were listed as Laos nationals.

A Lao Airlines employee contacted by phone at Vientiane's Wattay airport says a news conference will be held on Thursday.
Do you know anyone affected by the crash? Send your story, photos or video here.
- AFP