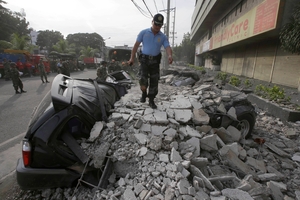 Rescue workers are racing to reach isolated communities on a popular Philippine tourist island devastated by a huge earthquake, as aftershocks tormented survivors and the death toll climbed to 107.
The 7.1-magnitude quake smashed the central island of Bohol, triggering landslides that engulfed homes, ripped apart bridges and tore down centuries-old churches.
The national disaster agency said yesterday that the number of people confirmed killed on Bohol and neighbouring islands had climbed from 93 to 107, and more bad news was expected as rescue workers were yet to reach some villages and towns.
"Our efforts today are focused on reaching isolated areas. We suspect individuals are trapped out there and we have to conduct search and rescue," National Disaster Risk Reduction and Management Council spokesman Reynaldo Balido told AFP. With destroyed bridges, ripped-open roads and power outages fragmenting the island of about 1 million people, Balido said, the authorities were struggling to reach isolated communities and had no idea how bad the damage was in some areas.
"We don't even have an estimate ... we are just assuming that since there were collapsed buildings, we must search for them," Balido said, when asked how many people remained missing.
At Loon, a small coastal town of about 40,000 people just 20km from the epicentre of the earthquake, shocked survivors wandered around the rubble of collapsed buildings looking for relatives.
Farmer Serafin Megallen said he dug with his hands, brick-by-brick, to retrieve his mother-in-law and cousin from the rubble of their home.
"They were alive but they died of their injuries three hours later. There was no rescue that came, we had to rely on neighbours for help."
Megallen said a neighbour with a truck tried to drive the bodies to Loon's funeral parlour, only to find out the bridge across a river on the way was destroyed.
The bodies were then taken across the river aboard a boat.
"But no one will give them last rites because the church was also destroyed," he said.
Ten churches, many of them dating back centuries to Spanish colonial rule of the Philippines, were destroyed or badly damaged on Bohol and the neighbouring island of Cebu.
"We're trying our best to keep hopes up, but [it's hard] in this desperate situation," said local priest Father Tomas Balakayo.
- AFP