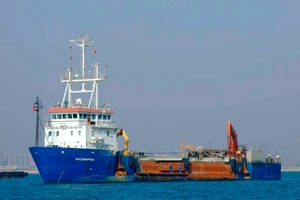 A Somali pirate "kingpin" has been arrested in Belgium after police lured him there by posing as a film crew who wanted him to star in a documentary.
Mohamed Abdi Hassan, known as "Afweyne" or "Big Mouth", allegedly earned millions of dollars in ransom payments as the boss of one of Somalia's most successful pirate gangs.
Belgian undercover agents spent months persuading him to come to Europe to take part in a documentary, only to arrest him as he landed at Brussels airport on Sunday.
Also held was an associate, Mohamed "Tiiceey" Aden, the Governor of the town of Adado in southern Somalia, who was involved in trying to broker the release of British yachting couple Paul and Rachel Chandler.
"After patiently starting a relationship of trust with Tiiceey, and through him with Afweyne, which took several months, both were prepared to participate in this [film] project," said Johan Delmulle, a Belgian federal prosecutor, yesterday.
A quietly-spoken man whose manner belies his reputation, Hassan was described in a United Nations report last year as "one of the most notorious and influential leaders" of the pirate network in Hobyo and Haradhere, two remote pirate towns along Somalia's vast east coast.
He is understood to have been given a diplomatic passport by the Somali Government after publicly renouncing his old profession earlier this year, and agreeing to try to persuade other pirates to follow suit.
But his diplomatic status did not appear to impress Belgian officials, who had apparently identified him as the man behind the hijacking of a Belgian ship in 2009, for which two other Somalis have already been arrested and sentenced. "All too often those persons stay out of the frame and let others carry out their dirty business," said Delmulle.
The prosecutor said Hassan was asked via Tiiceey whether he would be prepared to be an adviser on a film about piracy, portraying his life carrying out hijackings off the East African coast and making millions of dollars from ransom payments.
Hassan's first big prize as a pirate is believed to have been the 2008 capture of the Sirius Star, a Saudi-owned supertanker. The tanker was sailing hundreds of kilometres outside the pirates' usual hunting grounds, showing their ability to roam right across the Indian Ocean. It was eventually released for a 2 million ($3.8 million) ransom. The following year, Hassan's men received a similar-sized ransom for Ukrainian ship MV Faina.
At least 77 hostages are still held by Somali pirates. Some gangs have turned to land-based kidnapping.Telegraph Group Ltd