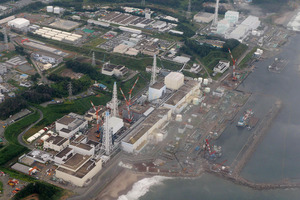 A powerful typhoon is closing in on Japan, on a path that will take it towards the precarious Fukushima nuclear power plant.
Typhoon Wipha, packing winds of up to 144km/h per hour near its centre, was in the Pacific south of Japan and moving north at 20km/h.
It was forecast to reach an area off the Tokyo metropolitan region today and tonight would be off the coast of Fukushima where the crippled nuclear power plant sits.
As the weather agency issued warnings of torrential rain and strong winds, the operator of the plant, Tokyo Electric Power Co (Tepco), said it was bracing for the winds after a series of leaks of radiation-polluted water.
"We are making preparations for proper management of contaminated water ... We will patrol places that could have inflows of water [from the storm]," a company spokesman said.
Cables and hoses are bundled together, while ground and offshore works have been halted, he said.
Earlier this month the company announced 430 litres of polluted water had spilled from a tank as workers tried to remove rainwater dumped at the plant by recent typhoons.
It has admitted contaminated water may have flowed into the sea.
- AFP