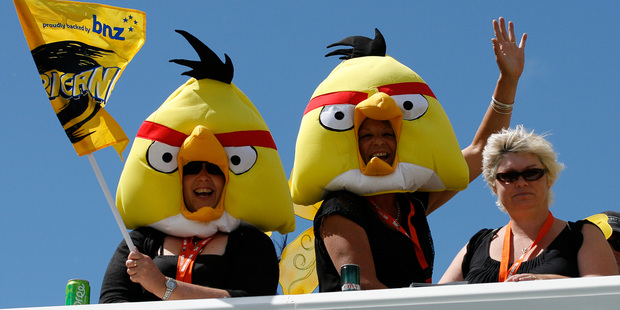 More than 1.7 billion people around the world have downloaded the mobile games. Millions have bought the fluffy toys and the T-shirts. Some have even watched an "in-app" TV cartoon episode, launched this year, or even visited one of the branded theme park sites.
Finnish firm Rovio's madcap idea of creating Angry Birds, a game that originally involved firing birds through the air to smash pigs, has become a global phenomenon. And the spin-offs don't stop.
Coming soon is a full-length Angry Birds movie after Rovio announced it had recruited two Hollywood veterans behind Disney's Wreck-It Ralph and Sony's Cloudy With a Chance of Meatballs to direct the animated 3D film.
No wonder many regard Angry Birds as mobile's killer app. Its "freemium" business model means the games are free and only a minority of users pay for premium services and in-app extras in the digital world.
But such is the brand's scale and reach that fans who might pay nothing digitally have been clamouring to buy tangible, physical products, which are almost entirely paid for and generate valuable revenue.
Rovio doubled revenue last year to 152.2 million ($247.7 million) but merchandising tripled, and represented 45 per cent of turnover. Net profit was a chunky 55.5 million after tax. "Consumer products originally started as an extension," says Naz Cuevas, senior vice-president of licensing.
"It has essentially turned into an entertainment experience of itself sometimes independent of the game."
Cuevas will be speaking about how Angry Birds disrupted the games market at Brand Licensing Europe (BLE), a three-day trade fair that opens at London's Olympia tomorrow. She stresses games remain "the vital organ of the organisation", but "you should expect the other parts of the business to disrupt the market".
Jami Laes, Rovio's executive vice-president of gaming, who will also talk at BLE, says there is plenty of opportunity to generate revenue within the game itself. "When you have that kind of reach," he says, referring to the 1.7 billion downloads, "there are other ways to monetise it" apart from just persuading players to make in-app purchases. Examples include sponsorship, advertising and partnerships such as a spin-off, branded Star Wars version of the game. Laes says the next big opportunity is "to merge both physical and digital" to get a physical toy to interact with the device.
That is what Rovio has done with its Telepods range of toys for its Star Wars game.
Rovio, which is thought to be majority-controlled by the Hed family, who helped to found it back in 2003, is determined to be more than a one-hit wonder. "We're here to stay not for 100 days but for 100 years," says Cuevas.
- Independent