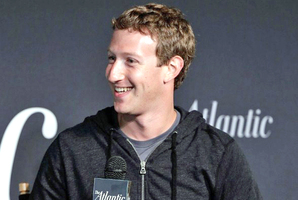 Facebook founder and chief executive Mark Zuckerberg has spent US$30 million ($36 million) to buy four houses next to his own five-bedroom home.
The San Jose Mercury News reported that the 29-year-old multi-billionaire decided to buy the homes in the ritzy neighbourhood of Palo Alto after discovering a developer planned to buy one of them to build a mansion.
The report said Zuckerberg had no plans to build a "Taj Mahal" on the properties, and had leased them back to their original owners.
Zuckerberg, whose fortunes is estimated at US$19 billion, reportedly paid US$14.9 million for one of the homes, which was "absurdly high", according to a real estate agent quoted by the article.
But the price was less surprising "if somebody wants to buy a property and the sellers don't want to sell", agent James Yang said.
Palo Alto is one of the most expensive cities in the United States. It has many tech moguls among its residents, including Google founders Sergey Brin and Larry Page and Yahoo chief executive Marissa Mayer, and was the home of late Apple founder Steve Jobs.
- AAP