Cancer patients denied clinical trials and salmonella outbreak inadequately monitored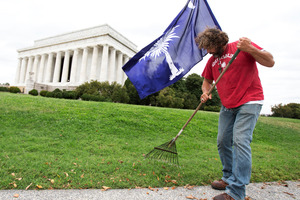 For many people in the US, the first week of the government shutdown has caused no more inconvenience than a cancelled trip to the zoo.
But as Congress continues to fail in resolving its differences, the consequences for those beyond Washington are growing ever starker, and to some the shutdown - now in its 10th day - is a matter of life and death.
That's the case for Michelle Langbehn, one of an estimated 200 patients each week who are being denied the opportunity to undergo clinical trials at the US National Institutes of Health (NIH). Last year, aged 29, Langbehn was diagnosed with a rare variety of cancer, and has been through nine cycles of chemotherapy.
In search of an alternative, she recently signed up for the trial of a promising new drug with the NIH, but the shutdown has prevented her treatment going ahead.
"Lives are at stake," Langbehn told the Washington Post. "This isn't just a matter of inconvenience.
This is a matter of life or death ... There are 200 people that are trying to get into clinical trials each week."
The shutdown has also had a broad impact on public health, after an outbreak of salmonella was this week traced back to three chicken-farming facilities in California. Some 278 people across at least 17 states have already fallen ill, and 42 per cent of them have been taken to hospital.
Yet the US Centres for Disease Control (CDC) was unable to adequately monitor the outbreak at its outset, because the shutdown had forced the closure of PulseNet, a national network linking public health laboratories, designed to spot and trace the spread of food-borne illnesses.
Seven of the eight staff who man the system had been sent home. Since the outbreak was identified, the CDC has reportedly called back several of the workers furloughed from its foodborne division.
A majority of the nation's estimated 800,000 federal workers remain on leave. Many are expecting a pay cheque tomorrow, which, if the gridlock in Washington goes on, may be their last for some time. Due to the timing of the shutdown, tomorrow's wage packet will contain no more than 60 per cent of their normal pay - and many federal workers were already forced to cut back following sweeping budget reductions, known as sequestration, which led to widespread unpaid leave periods earlier in 2013.
Last weekend, the House of Representatives voted unanimously to ensure that all furloughed workers would receive backpay when the shutdown comes to an end, though that bill is presently stalled in the Senate.
Colleen Kelley, president of the National Treasury Employees Union, which represents around 150,000 federal employees, said the effects of the delay in pay would nonetheless be "devastating" to her members. Kelley told Bloomberg, "Their mortgage isn't cut in half - their rent, their food, their utility bills aren't cut in half. They are middle America. They are like most other Americans who live pay cheque to pay cheque."
Among those sent home at the start of the shutdown were people at the forefront of the US national security apparatus, and the CIA revealed on Wednesday that it would bring back some of its employees because of concerns about the "potential adverse cumulative and unseen impact on national security".
The agency's director, John Brennan, said he would recall those necessary to "core missions", including foreign intelligence collection, analysis, covert action and counterintelligence.
The Director of National Intelligence, James Clapper, reportedly authorised the recall of workers at several other intelligence agencies, too, after he testified at a hearing last week that the extended furloughs were having an "insidious" effect on those agencies' operations, leaving the US increasingly vulnerable to threats such as terrorist attacks.
The Pentagon has welcomed almost all of its 350,000 civilian employees back to work, with the Defence Secretary, Chuck Hagel, citing a recent law that suggests those workers are vital to national security.
That will come as little comfort to the families of five soldiers killed in Afghanistan last weekend, who, because of the shutdown, will receive neither death benefits nor the money to pay for their funerals. Four died in an attack in Kandahar Province: Sergeant Patrick Hawkins, 25; Private Cody Patterson, 24; Sergeant Joseph Peters, 24; and First Lieutenant Jennifer Moreno, 25. A fifth, 19-year-old Lance Corporal Jeremiah Collins, was killed in a separate incident in Helmand.
Under normal circumstances, their families would each receive US$100,000 ($121,000) as well as burial benefits and a 12-month housing allowance. Yet during the shutdown they will have to pay their own way even to meet the soldiers' bodies as they return to the US.
President Barack Obama has demanded immediate action on the issue.
Independent, AFP