Russians promise charges on top of piracy after confiscating `narcotic substances'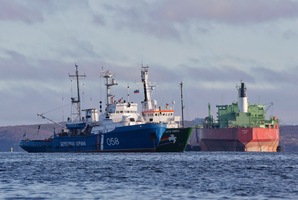 Authorities in Russia have claimed they found illegal drugs on the ship of 30 Greenpeace crew members detained on piracy charges, promising additional charges against several defendants.
In a search of the Greenpeace ship Arctic Sunrise, whose crew includes New Zealanders David Haussmann and Jonathan Beauchamp, investigators confiscated "narcotic substances, presumably poppy straw and morphine" and are determining the origin and purpose of the drugs, according to Vladimir Markin, the spokesman of Russia's powerful Investigative Committee.
Poppy straw is illegal in Russia, while morphine is legal only on a doctor's orders.
Russian authorities seized the Arctic Sunrise in a commando-style raid last month, towing it to Murmansk and later charging 28 activists and crew members and two freelance journalists with piracy, which carries a prison sentence of 10 to 15 years.
Captain Peter Willcox was also charged with resisting the authorities, an administrative violation.
The 30 defendants are being held in pre-trial detention centres around Murmansk, and three defendants' requests for bail were rejected on Wednesday. Greenpeace lawyers have said they will file a case with the European Court of Human Rights over the conditions faced by their clients in detention.
The Investigative Committee's statement suggested the piracy charges may be cancelled and replaced with other criminal charges.
President Vladimir Putin previously said that the activists were "obviously" not pirates, but investigators nonetheless pressed ahead with piracy charges.
"Given the information gathered during the course of investigating this criminal case, the charge that has already been brought against everyone is expected to be changed," Markin said.
In previous cases, people convicted of selling poppy straw in Russia have been sentenced to five or more years in prison.
Greenpeace and other commentators criticised the possible narcotics charges as ridiculous.
"We can only assume the Russian authorities are referring to the medical supplies that our ships are obliged to carry under maritime law," Greenpeace said.
- Independent