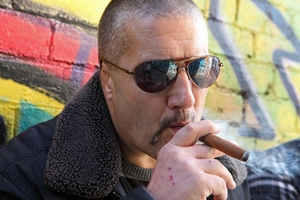 Australian crime figure and author Mark "Chopper'' Read has died following a battle with liver cancer, his manager says.
Read died on Wednesday at the Royal Melbourne Hospital after a long battle with liver cancer, his manager Andrew Parisi said in a statement.
"I am deeply saddened to confirm the death of Mark Brandon Read, known widely throughout Australia and the world as 'Chopper','' Mr Parisi said.
Read made his last public appearance a fortnight ago in front of a sold-out audience at Melbourne's Athenaeum Theatre.
He wished to be remembered as someone who spun a great yarn and made people laugh, Mr Parisi said.
"Despite his failing health, he delighted the audience with his skills as a raconteur and storyteller,'' he said.
Read's death is a tragic loss for his wife Margaret Cassar and his sons, Roy and Charlie, Mr Parisi said.
For more than 15 years he had lived a quiet life with Margaret in Collingwood.
"He worked as a writer, painter and public speaker, paid his taxes and took care of his family,'' Mr Parisi said.
"At the time of his death, we ask that people reflect on how Mark was able to overcome his past and, after more than 23 years in prison, find a way to re-enter 'normal' society.
"It is as a husband, father and friend that Mark will be missed most deeply.''
The family has requested privacy at this time, Mr Parisi said.
The owner of an inner Melbourne pub where Read was a regular said he last saw him a fortnight ago.
"He just looked yellow, as sick as I've seen him for some time,'' publican Glen McGee from Collingwood's Leinster Arms told AAP.
Mr McGee said Read was the pub's first customer when it opened 12 years ago.
"I remember it well and that's as sick as I've seen him.
"He hasn't drunk alcohol for nearly four years now because of his liver complaint.
"People took him as Chopper Read, he was just Mark to us.''
- AAP