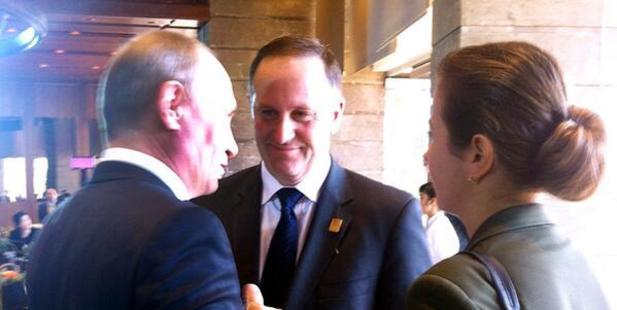 Prime Minister John Key raised the issue of the New Zealand Arctic protestors with Russian President Vladimir Putin at the Apec in Bali, Indonesia, but it was not by way of protesting their treatment.
Mr Key said he asked him if he was aware that two New Zealanders had been arrested by Russia in their response to a Greenpeace protest on an oil platform in the Arctic Sea.
"What was quite clear was that he was absolutely aware of it, he was aware that there were New Zealanders, he was aware that the [Foreign Minister] had raised it, and he gave me an assurance it would flow through the appropriate Russian judicial system."
Mr Key said he did not know what the protestors would be ultimately charged with "but all I can say is he gave me an assurance it would be a proper process."
Charges of piracy have been laid against the 30 Greenpeace activists including two New Zealanders, Jonathan Beuachamp and David Haussman, and could face 15 years jail terms if convicted.
Today a regional court in Murmansk turned down bail pleas from three Russians including Denis Sinyakov, a former AFP and Reuters staff photographer.
The judge also refused to release on bail the ship's doctor Yekaterina Zaspa and Greenpeace spokesman Andrei Allakhverdov, their lawyers and the environmental lobby group's representatives said.
Greenpeace said it expected bail hearings for the remaining crew members to continue later this week.
Mr Key said "in the end people need to consider their actions - the risks or otherwise - and I'm sure those protestors thought about all those issues.
"We are going to do our best to continue to advocate for them and make sure they are properly looked after but in the end we cant interfere in their system any more than we would interfere with a Russian citizen who was facing charges in New Zealand.
"We would let it run its judicial process."
Mr key and Mr Putin had their brief conversation after the leaders' photo on Tuesday morning.