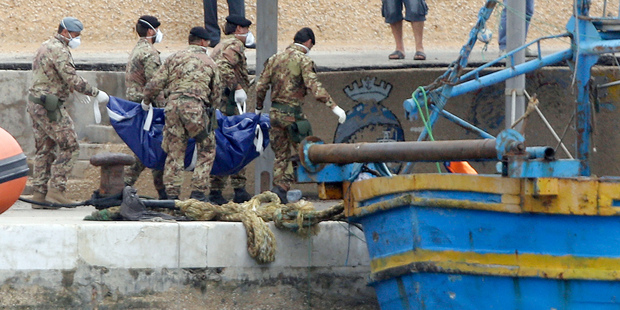 Divers in Italy recovered 32 more bodies Sunday after a shipwreck in which more than 300 African refugees are feared to have died, as a government minister called for an easing of immigration rules.
The death toll now stands at 143, while 155 others have been rescued after their boat caught fire and sank off the remote island of Lampedusa on Thursday, but scores more are still missing.
Integration Minister Cecile Kyenge was on the dock as the corpses were brought to shore and a representative of Pope Francis blessed each one.
"The law on immigration cannot be punitive," said Kyenge, who has faced a torrent of racist abuse as Italy's first black minister.
The current law considers all irregular migrants suspects in the crime of "clandestinity" and punishes anyone accused of facilitating landings.
"The migratory flux has fundamentally changed. We have to understand it and change our laws," she said, adding that she was planning to triple the available accommodation in asylum centres to 24,000 bed spaces because of the growing influx.
"We cannot accept these tragedies again," she said.
Prime Minister Enrico Letta meanwhile said EU Commission president Jose Manuel Barroso will visit the island on Wednesday and blamed Libya for the growing influx of asylum seekers in Italy.
In an interview with news channel SkyTG24, Letta said Libya - where the shipwrecked boat departed from - should adopt "stringent" measures to stop the migrant boats from leaving its shores.
"Our problem today is called Libya," he said.
Letta also called for more European assistance to cope with the influx, saying: "Italy cannot be the first country to have everything on its shoulders."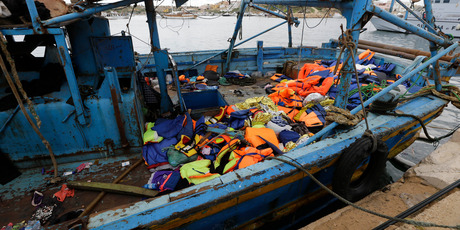 Italy has requested that the refugee issue be put on the agenda of a meeting of European interior ministers in Luxembourg on Tuesday and of a summit of EU leaders in Brussels at the end of the month.
"The Mediterranean cannot remain a huge open-air cemetery. Action must be taken," French Foreign Minister Laurent Fabius told French media.
"The heads of state must translate their outrage into action," he said.
Local authorities on Lampedusa struggled to cope with the new arrivals. The refugee centre has 250 places but is now housing more than 1,000 people including those from previous landings.
Many have been forced to sleep outside.
Forty of the 155 survivors - unaccompanied minors aged between 11 and 17 - are among those living in squalor in the heavily guarded centre.
'Constant emergency'
Some 30,000 asylum-seekers have arrived in Italy so far this year - more than four times the number for last year. Most of the arrivals land on Lampedusa, which is closer to north Africa than to Italy.
Hundreds have perished at sea so far in 2013, adding to the estimated 17,000 to 20,000 who have died crossing the sea over the past 20 years.
"There is no plan for the landings. There is just a constant emergency," said Francesco Rocca, the president of the Italian Red Cross.
Survivors on Saturday cried over the coffins of their loved ones as the Italian coast guard denied claims that the rescue operation was badly delayed.
Local fishermen - many of whom rushed to the rescue - also laid a floral wreath at sea on Saturday in a poignant homage to the drowned.
Officials say the survivors have asked for the bodies to be repatriated to Eritrea, the African dictatorship they were fleeing.
The best estimates of how many people were on board the vessel when it caught fire and sank range between 480 and 518 people, which would give a final death toll of between 325 and 363 people.
Divers said they were limiting their time under water to seven minutes at most because the wreck is at a depth of some 50 metres (155 feet), less than a kilometre from the shore of the island.
It is feared that some of the bodies may be lost at sea forever because of strong currents in the area.
Pope Francis has dispatched to Lampedusa a personal representative, Polish monsignor Konrad Krajewski, who led a ceremony for the victims.
Francis meanwhile observed a moment of silence during his weekly address to thousands of pilgrims on St Peter's Square in the Vatican.
The pope said: "Let us all pray in silence for these brothers and sisters of ours, women, men, children. Let our hearts cry in silence."
- AFP