Scientists' scheme comes after report says manmade warming will change climate.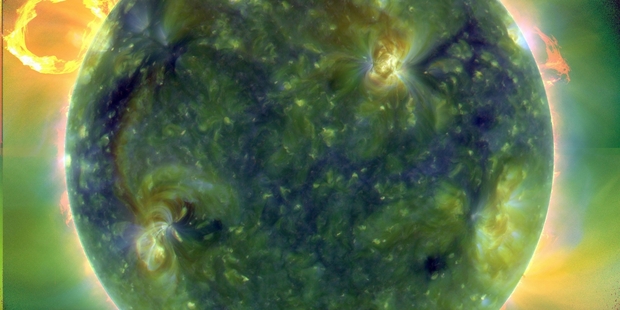 Two of Britain's leading scientists have urged the setting up of a world programme to generate solar electricity that is cheaper than fossil fuel power by 2025.
All countries should be invited to participate, say Sir David King, a former government chief scientific adviser, and the economist Lord Richard Layard.
The programme's target would be the development of techniques that generate at least 10 per cent of the world's total energy supply from solar electricity by 2025, and 25 per cent by 2030.
King and Layard's proposal follows a report by the Intergovernmental Panel on Climate Change on the likely impact of climate change triggered by rising carbon emissions.
For New Zealand, the report predicts more heavy, extreme rainfall by the end of the century and an increase in drought in some areas.
The world desperately needs to wean itself off its fossil fuel habits and find fresh, renewable methods for generating electricity. Nuclear power and wind energy have potential, but face political problems.
But solar energy holds vast promise, the British scientists say.
"The sun sends energy to the earth equal to about 5000 times our total energy needs. It is inconceivable that we cannot collect enough of this energy for our needs, at a reasonable cost."
They acknowledge that scientific breakthroughs will be needed to make cheap solar energy a global prospect.
Scientists will have to find ways to reduce the cost of transmitting electricity from areas of high luminosity and low land value to the major population centres of the world.
This will require new materials that are much better than present methods at conducting electricity without power loss. This would be a goal of the solar energy programme.
The proposal to set up the Sunpower programme comes as campaigners, politicians and business leaders have called for immediate action on climate change after the starkest warning yet that manmade global warming is leading to catastrophic and irreversible consequences.
Leading scientists on the IPCC meeting in the Swedish capital last week said they were "95 per cent certain" that climate change was occurring and caused by human actions.
IPCC chairman Rajendra Pachauri said: "Warming of the climate system is unequivocal, and since the 1950s many of the observed changes are unprecedented. The atmosphere and ocean have warmed, the amounts of snow and ice have diminished, sea level has risen, and the concentrations of greenhouse gases have increased."
The EU's commissioner for climate action, Connie Hedegaard, said: "What would you do if your doctor was 95 per cent sure you had a serious illness? Whose side are you on? Those who want to act on 95 per cent certainty or those who gamble on the remaining 5 per cent?"
UN secretary general Ban Ki-moon invited world leaders to a summit next year to formulate a plan.
"We must act now," he urged.
The IPCC reported that the world was on course for a rise in temperatures of more than 2C by the end of the century, causing heatwaves, droughts, sea level rises and extreme rainfall. Nations have set their own targets for curbing greenhouse gases but experts say these are inadequate to meet the reductions required.
New Zealand has committed to reducing greenhouse gas emissions to 5 per cent below 1990 levels by 2020.
Sunpower
targets10% of world's energy generated by the sun by 2025
- Observer