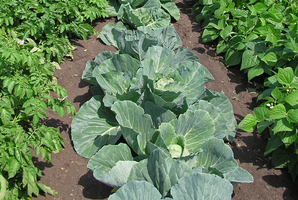 A British woman has been reunited with the wedding ring she lost while digging cabbages - after it was found by a metal detector 41 year later.
Brenda Caunter was tending her allotment in 1972 when the golden band slipped off her finger.
Mrs Caunter, now 62, and her husband Dave scoured the vegetable patch for days but eventually gave up and bought a replacement. So when Mr Caunter saw a neighbour with a metal detector this week at the plot in Mawnan Smith, Cornwall, he half-jokingly asked him to look out for the long-lost nine-carat ring.
And a few days later the treasure hunter called to say he had found it. The ring is in excellent condition and is back on Mrs Caunter's finger.
Her husband, 69, said: 'I couldn't believe it after all these years.'
Dave said: 'Back then the ring cost me a fortune. When Brenda told me she'd lost it we went back up there with our own metal detectors.
'But they were not nearly as good as they are now and we didn't find it. Eventually we had to buy a replacement.'
Explaining how he came across the neighbouring treasure hunter, Dave said: 'I was going out in the village and saw him up in the field, and when I saw his wife I asked her: "What's he up to in the field with that metal detector? Tell him if he finds a ring, it belongs to Brenda."
'Then I had a phone call telling me that he had found a ring. I couldn't believe it after all these years.'
Dave had saved up to buy the ring for Brenda before the pair married in September 1969.
She had only been wearing it for three years when she lost it while uprooting veg near their home on the outskirts of Mawnan Smith, Cornwall.
But the treasure hunter managed to find the ring in almost exactly the same spot where Brenda had dropped it.
- Daily Mail