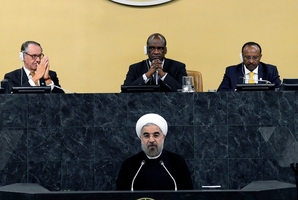 President Barack Obama and Iran's new leader yesterday made very tentative moves to end decades of hostility between their countries but could not break the deadlock enough to organise a meeting.
Obama said a "meaningful" accord was possible if Iran ends concerns over its nuclear programme. New Iranian President Hasan Rouhani called on the United States leader to ignore "war-mongering pressure groups" to make a deal.
The longstanding gap between the US and Iran was evident in Obama and Rouhani's speeches to the United Nations General Assembly and the failure to orchestrate at least a symbolic handshake between them.
Obama said the mistrust between the US and Iran had deep roots and that Tehran's "pursuit of nuclear weapons" would remain a US foreign policy priority.
But a "meaningful agreement" between the arch-rivals was possible, he added.
"I don't believe this difficult history can be overcome overnight - the suspicion runs too deep," said Obama.
"But I do believe that if we can resolve the issue of Iran's nuclear programme, that can serve as a major step down a long road towards a different relationship - one based on mutual interests and mutual respect.
"To succeed, conciliatory words will have to be matched by actions that are transparent and verifiable.
"The roadblocks may prove to be too great, but I firmly believe the diplomatic path must be tested," Obama said, adding that he had ordered US Secretary of State John Kerry to pursue diplomatic efforts.
Kerry and Iran's Foreign Minister Mohammad Javad Zarif will meet for the first time at international talks on Iran's nuclear programme tomorrow.
Rouhani said Iran poses "absolutely no threat to the world", in his speech, and he condemned international sanctions against Iran and also hit out at the use of drones, without naming America.
If Obama rejects "the short-sighted interest of warmongering pressure groups, we can arrive at a framework to manage our differences", the Iranian leader said, insisting that his country's nuclear drive is "exclusively peaceful".
"Nuclear weapons and other weapons of mass destruction have no place in Iran's security and defence doctrine, and contradict our fundamental religious and ethical convictions," Rouhani said.
He added that the international community had to accept Iran's nuclear activity, which Western nations say hides an attempt to reach a nuclear bomb capacity.
The UN Security Council has imposed four rounds of sanctions against Iran over its uranium enrichment.
There had been speculation that Obama and Rouhani could meet at a lunch organised by UN leader Ban Ki Moon. Rouhani was not present however.
A senior US official said that an encounter had proved "too complicated" for the Iranian side.
Rouhani did meet French President Francois Hollande who also said in his UN speech that Iran must take "concrete" measures on its nuclear programme to reassure the international community.
The US ended diplomatic relations with Iran in 1980 in the stormy aftermath of the Islamic Revolution. Rivalry has heightened since then, with the US leading the sanctions drive.
The speeches overshadowed the growing alarm expressed by world leaders over the intensifying Syrian war and the use of chemical weapons.
Obama insisted the US remains ready to use military force to protect its "core interests" in the Middle East as he demanded that the Security Council pass a "strong" resolution to back a plan to destroy Syria's chemical weapons.
Russia has resisted Western attempts to make the disarmament plan mandatory for Syrian President Bashar al-Assad under Chapter VII of the UN Charter.
Russia is Assad's key arms provider while Syria accuses Saudi Arabia, Qatar and other Gulf states of arming opposition rebels.
- AFP
Iran
What is the situation?
Iran has ruled out closing its uranium enrichment programme, which the West fears could produce material for nuclear weapons. Iran insists it only seeks reactors for energy, research and isotopes for medical treatments. The United Nations, European Union, United States and other countries have applied painful sanctions, leaving Iran blocked from global banking systems and with high inflation.
Who are the players?
The US is negotiating with Iran alongside Russia, France, Britain, China and Germany, all permanent UN Security Council members except Germany. Israel is not part of negotiations over Tehran's nuclear programme but is involved because it considers a nuclear-armed Iran a threat to its existence and has threatened possible military attack.
What's happening at the UN General Assembly?
The challenges posed by sanctions will shape Rouhani's agenda. Obama has signalled his willingness to engage with Tehran if it makes nuclear concessions.
What does Iran want?
Swift relief from sanctions targeting its vital oil exports and limiting access to global banking. Iran may be ready to limit enrichment to 5 per cent and destroy or convert all enriched uranium above that benchmark as an initial concession. It's now enriching some uranium to nearly 20 per cent, which can be turned into weapons-grade uranium more quickly. Iran sees Israel's undeclared nuclear arsenal as the biggest threat to the Middle East.
What does the US want?
Since talks on Iran's nuclear programme began seven years ago, the US and its allies have moved from demanding a stop to all enrichment to lesser concessions. The six negotiating nations want the 5 per cent limit and an end to work on a plutonium reactor because that can also be used in nuclear weapons. It wants a fortified underground facility closed and greater UN monitoring of Iran's nuclear programme.
And Israel?
Israel wants the US and the broader international community to maintain a "credible" military threat, rejecting the Rouhani administration's more moderate tone as a smokescreen. Prime Minister Benjamin Netanyahu fears its allies might be fooled into complacency. Last week, he demanded Iran halt all uranium enrichment, remove all enriched uranium, close the underground plant where 20 per cent uranium is made, and end building of the plutonium reactor. If Iran initially concedes on only one of the demands, Netanyahu's position - and indirect influence on the US negotiating stance - would be weakened.
- AP