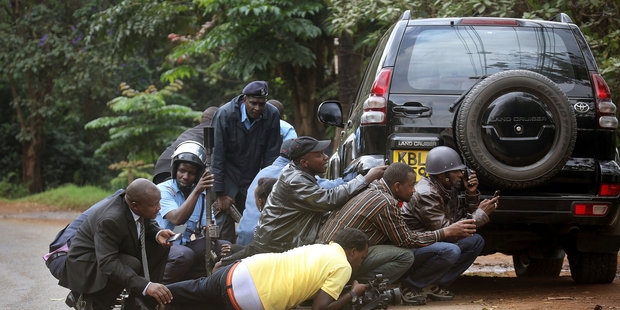 Kenyan troops were last night in control of most of Nairobi's Westgate shopping mall three days after a deadly siege by Islamists, who, according to Kenya's Foreign Minister, include "two to three Americans" and a British woman.
But as the Interior Ministry said yesterday that all hostages trapped by the militants were believed to have been freed, Somalia's al-Qaeda-linked al-Shabaab group said on Twitter that it was still holding hostages alive inside and that its fighters were "still holding their ground".
A security expert with contacts inside said last night there were at least 30 hostages when the assault began and at least 10 were believed to be still inside the upscale mall. Explosions inside the mall were heard yesterday.
Al-Shabaab insurgents have claimed the attack, which began at midday local time on Saturday (9pm Saturday NZT) when the armed militants marched into the complex, tossed grenades and fired automatic weapons and sent panicked shoppers fleeing.
A government spokesman told AFP last night that the siege, in which the attackers killed at least 62 shoppers and staff, was close to being declared over. He said special forces combing the building were no longer encountering any resistance.
"Our special forces are inside the building checking the rooms," Manoah Esipisu said.
"We think that everyone, the hostages, have been evacuated, but we don't want to take any chances. The special forces call this sanitising.
"At the moment they have not met any resistance, but of course we are not ruling out the possibility that there are a couple of them hiding in a remote room or corner," he added.
"We're in control of Westgate," the Interior Ministry said in a message on Twitter.
Throughout the night the area around the mall was quiet, with security personnel appearing relaxed.
No details on the numbers of hostages released have been given, but 63 people were earlier recorded missing by the Red Cross, a figure thought to include hostages as well as those possibly killed.
Almost 200 were wounded in the attack, and at least 11 Kenyan troops were wounded in intense gun battles on Monday, the army said.
Special forces on Monday also killed at least three gunmen and wounded several in bitter fighting in the part Israeli-owned complex, which was popular with wealthy Kenyans and expatriates. A Kenyan security source and a Western intelligence official said Israeli forces were also involved in operations, as well as British and US agents.
Kenyan army chief Julius Karangi said the gunmen were of different nationalities. Many foreign fighters, including Somalis with dual nationalities, are members of the al-Shabaab force.
"They are from different countries. We have sufficient intelligence this is global terrorism," Karangi said.
In an interview with US public broadcaster PBS, Kenya's top diplomat said Americans and a British woman were among the attackers.
"The Americans, from the information we have, are young men, about between maybe 18 and 19," she said.
Asked if the Briton was a woman, she replied: "Woman. And she has, I think, done this many times before."
The al-Shabaab rebels said the carnage was in retaliation for Kenya's military intervention in Somalia where they are battling the Islamists.
Shocked witnesses said the attackers tried to weed out non-Muslims for execution by asking them to recite the Shahada, the Muslim profession of faith.
The dead include Australian architect Ross Langdon and his Dutch wife Elif Yavuz who were expecting their first child.
Also killed were five Britons, two Frenchwomen, two Canadians, a Chinese woman, two Indians, a South Korean and a South African.
Mall worker Zipporah Wanjiru survived by hiding under a table with five other colleagues.
"They were shooting indiscriminately, it was like a movie seeing people sprayed with bullets like that," she said, bursting into tears.
- AFP