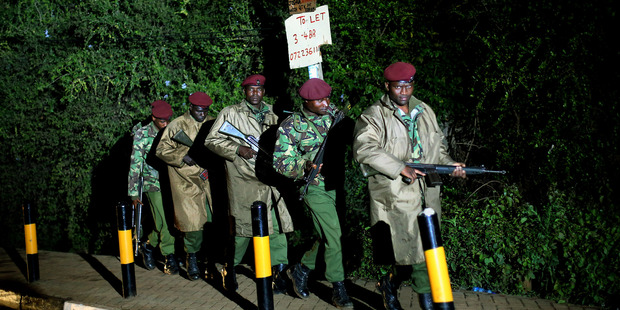 All hostages are believed to have been evacuated from a Nairobi shopping mall and Kenyan special forces are not encountering any resistance, a government spokesman says.
He said the three-day-long siege by Islamist gunmen, which has left at least 62 dead and up to 200 wounded, was nearing the end.
"Our special forces are inside the building checking the rooms. Obviously it's a very, very big building,'' said government spokesman Manoah Esipisu.
"We think that everyone, the hostages, have been evacuated, but we don't want to take any chances,'' he said.
"The special forces are doing their job and yes, I think we are near the end.''
"The special forces call this sanitising. It's a very complex and very delicate operation,'' he said, but said no resistance was being encountered.
"At the moment they have not met any resistance, but of course we are not ruling out the possibility that there are a couple of them hiding in a remote room or corner,'' he said.
Earlier, the interior ministry confirmed the deaths of three of the estimated 10 to 15 al-Shabab militants.
The ministry said authorities detained and were questioning 10 people in relation to the attack, even as military, police and special forces were still working to bring an end to the siege of the four-storey building.
Loud explosions and sustained gunfire were heard several times during Monday in the upmarket Westgate shopping centre, and black smoke continued to billow in the evening from a blaze that authorities said was started by the attackers.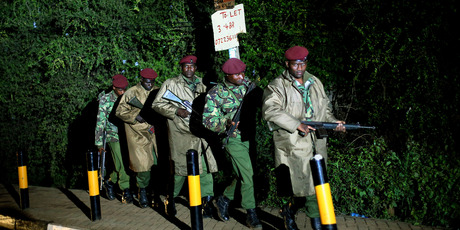 Spokesmen for the Somali al-Shabab militia claimed responsibility for the attack and said there would be no negotiations with the government.
Sheikh Ali Mohamud Rage, an al-Shabab leader, told a radio station in Somalia that the remaining attackers would fight to the death, calling the massacre part of a global jihad.
Al-Shabab said the attack was in response to Kenya's military presence in southern Somalia.
Eleven soldiers had been injured in the latest assault.
The current death toll of 62 civilians could rise further, Kenyan officials have said.
VICTIMS OF THE KENYA MALL ATTACK:
Here are details about some of the victims.
AUSTRALIA
Ross Langdon was an architect who worked in Uganda, Rwanda and Tanzania, creating eco-lodges and socially sustainable tourism in ecologically sensitive locations.
He was born in Tasmania, he said at a conference in Krakow last year, and his experiences living off the land as a child persuaded him it was better to try to adapt to one's environment than to attempt to change it - to express sensitivity and respect for the tradition of the communities in which he was working.
"I thought it might be better to be like a chameleon - able to adapt and change and blend with our environment rather than conquer it," he said.
The firm he co-founded, Regional Associates, an architecture and research consultancy, issued a statement expressing grief.
"Ross was living his dream, greatly contributing to the lives of people within highly disadvantaged communities and supporting habitat conservation for some of the world's most threatened species," the organisation said on its website.
The consultancy has offices in London, Australia, and Uganda. British media widely reported that Langdon was a dual national, though the Foreign Office did not identify British victims by name.
THE NETHERLANDS
Langdon's partner, Elif Yavuz, 33, was expecting their first child in early October.
A 2013 graduate of Harvard University's Department of Global Health and Population, she had completed her dissertation research on malaria in eastern Africa and was working with the Clinton Health Access Initiative, the university said in a note to faculty, staff and students.
A statement from Bill, Hillary and Chelsea Clinton said Yavuz had been working with the foundation as a senior vaccines researcher based in Tanzania.
"Elif was brilliant, dedicated, and deeply admired by her colleagues, who will miss her terribly," the Clintons said.
Jessica Cohen, an assistant professor of global health at Harvard and a friend of Yavuz, remembered her as "a deeply caring person and also an intellectually curious person".
"She was one of the most intelligent and full-of-life students I have met," Cohen said. "Malaria is such a huge burden in the world that it is an area where you can make a difference. I think she really enjoyed applying what she learned from the research side to what she knew from field experience."
PERU
Juan Ortiz-Iruri was a retired tropical disease specialist for UNICEF who had lived for 25 years in Africa, according to UNICEF and Peruvian Foreign Ministry spokesman Alejandro Neyra.
His son, Ricardo Ortiz, told Radio RPP that he entered the mall accompanied by his daughter, a 13-year-old born in the US.
"The version from my sister is that sadly my father fell to the floor and showed no signs of life," Ortiz said. He said his sister suffered a hand injury, but is out of danger.
Ortiz-Iruri had worked in Kenya, Malawi, Zimbabwe and Liberia.
GHANA
Kofi Awoonor, a Ghanaian poet, professor and former ambassador to Brazil, Cuba and the United Nations, died after being wounded in the attack, Ghana's presidential office confirmed. Ghana's ministry of information said Awoonor's son was injured and is responding to treatment.
Awoonor's work drew its inspiration from the traditions of his native Ewe tribe. Ghana's poetry foundation said on its website that Awoonor went into exile after Ghana's first president, Kwame Nkrumah, was driven out in a coup in 1966. He studied at the State University of New York at Stony Brook and his dissertation was later published as "The Breast of the Earth: A survey of the History Culture and Literature of Africa South of the Sahara" (1975). He returned to Ghana in 1975 and was later jailed for alleged involvement coup plot. His time in prison was recounted in "The House by the Sea (1978)," the foundation said.
KENYA
Ruhila Adatia-Sood, whose husband worked for the US Agency for International Development in Nairobi, was killed, the organization said in a press statement. She was a popular radio and TV personality in Kenya and tributes poured in for her on Twitter and Facebook. She was expecting a child.
Mitul Shah, the president of a second-tier football team in Kenya was among those killed, a spokesman for the country's national football federation told The Associated Press. Shah, president of Bidco United, was shot and killed on the first day of the siege on Saturday, Football Kenya spokesman John Kaniuki said. Shah worked for the Bidco cooking oil company and was reportedly attending a promotional cooking event with children at the Westgate mall.
President Uhuru Kenyatta's nephew and nephew's fiancee were also among the dead.
INDIA
Two Indians, 8-year-old Parmashu Jain and 40-year-old Sridhar Natarajan, were killed, and four others were wounded in the attack, an External Affairs Ministry spokesman said.
CANADA
Two Canadians, including a diplomat, died in the attack, according to Prime Minister Stephen Harper. He paid tribute to the victims and noted the loss of diplomat Annemarie Desloges, who served in Canada's High Commission to Kenya as a liaison officer with the Canada Border Services Agency.
Her spouse Robert Munk was wounded in the attack, but has since been released from the hospital, the Canadian Press reported.
Tim Edwards, president of the Professional Association of Foreign Service Officers, said Desloges "was one of our bright young lights, and hers was a career brimming with promise. Today we grieve the loss not only of a warm and intelligent friend and colleague, but a lifetime's potential tragically unfilled."
Edwards said 29-year-old Desloges came from a "foreign service family" and had accompanied her parents on overseas postings before deciding to follow in their footsteps in 2006. She served at a posting in New Delhi before moving to Kenya, where she had worked for two years.
Media reports and Facebook users identified Vancouver businessman Naguib Damji as the other Canadian victim. The daughter and niece of Damji confirmed to various media that he died in the attack.
SWITZERLAND
The Swiss government confirmed that one of its citizens was injured in the attack. It said its embassy in Nairobi is in contact with the victim's family and local officials, but would not provide further detail on the victim's name.
BRITAIN
British Defence Secretary Philip Hammond said six British nationals are believed to have died in the attack, and he warned the number could rise.
The victims include Zahira Bawa and her 8-year-old daughter Jenah Bawa, from Leamington Spa in central England, a relative told Britain's Press Association news agency.
FRANCE
Two French women were killed, President Francois Hollande said.
SOUTH AFRICA
One South African citizen was killed, according to the country's International Relations Department.
CHINA
A 38-year-old Chinese woman with the surname Zhou who worked in the real estate industry was killed in the attack, China's official Xinhua News Agency reported. Her son was injured in the attack and was in stable condition in a hospital, according to the Chinese Embassy in Kenya.
US
Five American citizens were injured, US officials said.
NEW ZEALAND
Andrew McLaren, 34, a New Zealander who managed a factory in Kenya for the avocado oil company Olivado, was wounded in the attack, the New Zealand Ministry of Foreign Affairs confirmed. He was hospitalised in stable condition.
- AFP and AP