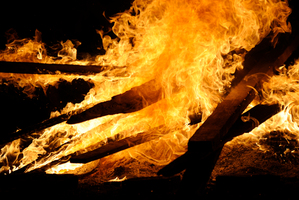 A toddler has died in a house fire west of Brisbane after his 15-year-old aunt accidentally started the blaze during a cooking mishap while babysitting.
The single-storey house in Toowoomba was well alight when emergency services arrived on Thursday about 6pm (AEST).
Firefighters searched the burning house and found a two-year-old boy's body.
Two other boys and two girls aged between seven and 15 were taken to Toowoomba Hospital to be treated for smoke inhalation.
It's been widely reported a 15-year-old girl was babysitting her siblings and nephew and had left cooking oil unattended on the stove, which caught alight.
She attempted to put it out with water, which only exacerbated the problem.
Detective acting Senior Sergeant Scott Stahlhut did not dispute the cause when it was put to him by reporters, but was reluctant to confirm or elaborate.
"Police are preparing a report now which will be provided to the coroner," Sen-Sgt Stahlhut told reporters on the scene.
"Full details of how this terrible event unfolded will be made known in that report, so I can't comment at this stage (about) what's transpired."
Neighbours tried to rescue the toddler, but the blaze, which had entirely engulfed the house within minutes, was too strong.
"A girl came out saying her nephew was still inside and as I went to break through the window to see if I could try to rescue him, I just thought `nah', because the smoke was too big," neighbour Terrance Mann told reporters.
"At that moment we realised there was just nothing we could have done."
Police also wouldn't confirm the children were left at home unsupervised.
Fire investigators remain at the scene on Friday.
- AAP