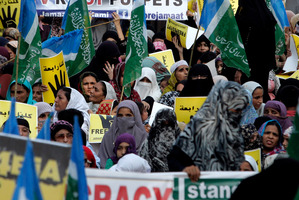 Rights campaigners have staged protest rallies across Pakistan over the rape of a 5-year-old girl in the eastern city of Lahore.
Police still have no clue who carried out the attack despite detaining several suspects and releasing most of them after questioning.
Police say the child was found outside a Lahore hospital on Friday night, a day after she went missing from a poor neighbourhood in the city.
"Her condition is relatively stable but still she is in the intensive care unit," said doctor Farzand Ali, medical superintendent at the Services Hospital.
Doctors earlier said the child was raped several times.
Rights campaigners and workers from NGOs staged protest rallies across Pakistan at the weekend, demanding the arrest of the culprits.
Rape is notoriously difficult to prosecute in Pakistan, where women are often treated as second-class citizens.
- AFP