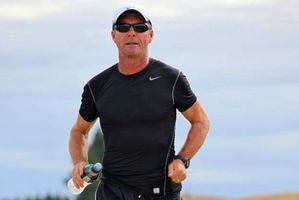 Australian runner Tom Denniss has become the fastest person to circumnavigate the world on foot after an epic journey of 26,071km in 20 months.
The 52-year-old ran about a marathon a day from December 2011, crossing South America, North America, Europe, Asia and Australia.
He used 17 pairs of running shoes during his 622 days on the road and beat the previous record set in 2005 by Jesper Olsen, a Dane, by 40 days.
Denniss started and finished at the Sydney Opera House and flew between the continents. He raised about £30,000 ($58,000) for charity and said the most dangerous leg was through the snow-covered roads in the Andes, where he almost fell down a 330m ice cliff.
He said he never considered giving up, adding: "The world doesn't seem to be as big now that I've run around it."