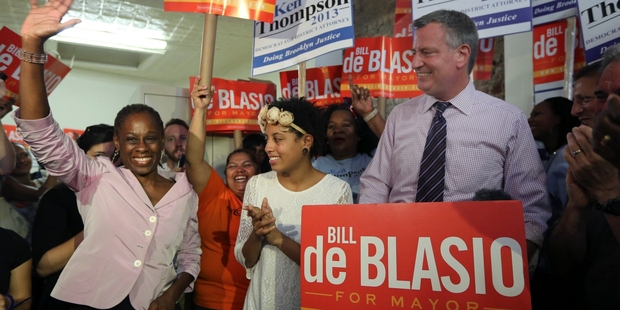 A little-known Italian American city official running a left-wing "tale of two cities" campaign has emerged as the surprise front-runner in the New York mayoral election as voters cast their ballots today in the primaries that will decide the party candidates.
Bill de Blasio has pledged to raise taxes on the rich and overhaul policing tactics, including the stop-and-frisk searches that the outgoing Mayor Michael Bloomberg argues have lowered crime, but which critics call racial profiling.
If de Blasio, 52, emerges as the next mayor of America's largest city, he will owe a major political debt to his family, including his African American wife Chirlane, who identified as lesbian before meeting him, and their teenage son Dante, whose 1970s-style "Afro" hairstyle has become the election's iconic image.
His late surge in the polls coincided with the release of widely praised campaign commercials showing him at home in Brooklyn with his inter-racial family. In one, he and his wife discuss how to prepare their son to behave the day he is stopped by the police.
In another, Dante delivers a winsome endorsement of his father's policies, noting that "he is the only one who will end a stop-and-frisk era that unfairly targets people of colour".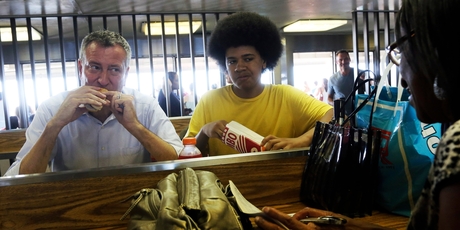 Dante and his hair rapidly became campaign stars and the de Blasio team adopted "Go with the 'Fro" as a campaign slogan. The victor in the Democrat primary will be the favourite to win November's election in a city where Democrat voters outnumber Republicans six to one.
But Joe Lhota, the former city transport chief who is set to win the Republican race, can take comfort from recent history. Bloomberg either ran as a Republican or with the party's support in three elections and his two-term predecessor Rudy Giuliani was also a Republican.
De Blasio's message on inequality is resonating with the city's Democrat voters in a typically colourful New York race that also includes Christina Quinn, the long-time front-runner who would be the city's first gay or lesbian mayor, and Anthony Wiener, the disgraced former Congressman of "sexting" notoriety.
But de Blasio, the city's ombudsman, is polling close to the 40 per cent level among primary voters that would avoid the need for a run-off.