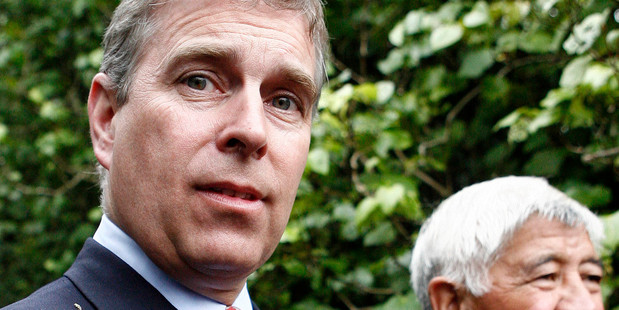 Prince Andrew was challenged by jittery royal protection officers in the gardens of Buckingham Palace as they stepped up security after a break-in, police have admitted.
The Duke of York, the Queen's third child, was approached by two armed officers about 6pm last Wednesday, local time, as he took a stroll at the monarch's official London residence, a spokesman for Scotland Yard said yesterday.
However, the spokesman denied a newspaper report that the officers pointed guns at the 53-year-old Duke and shouted at him to get down on the ground.
Officers approached "a man in the gardens of Buckingham Palace to verify his identity", the spokesman said.
"The man was satisfactorily identified. No weapons were drawn and no force was used."
Buckingham Palace declined to comment on the incident. Two days earlier, a man was arrested inside the palace in a major security breach.
He had scaled a fence to get into the building.
The incident, which happened last Monday at 10.30pm, is now the subject of a major security review involving the Home Office as well as Scotland Yard.
The palace is under permanent armed guard by dozens of officers from the royal and diplomatic protection unit, who carry rifles and revolvers. It is also covered by CCTV and an array of other monitoring equipment.
The suspect is thought to have climbed the fence that forms the outer cordon of the 16ha grounds, made his way across the open ground which surrounds the palace, and then got into the state rooms on the first floor.
Royal protection squad officers and palace officials found the man in a state room, which is one of 19 open to the public in the summer.
He was arrested for burglary, trespass and criminal damage.
A second man was arrested outside the palace on suspicion of conspiracy to commit burglary.
Police said no members of the royal family were in the palace at the time. The 87-year-old Queen is on holiday at Balmoral Castle in Scotland.
The break-in represented one of the most serious security breaches at the palace since 1982, when an unemployed man, Michael Fagan, got inside the Queen's private chambers while she was in bed.
Fagan spent 10 minutes talking to the Queen after climbing over the palace walls and up a drainpipe before she was able to raise the alarm.
- AFP