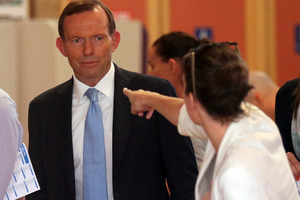 "If he wins, you lose," read the stark warning plastered across the railings of Drummoyne Public School, in western Sydney.
But the Labor Party posters, featuring a creepy-looking Tony Abbott against a black background, didn't deter Liberal voters at the polling station this afternoon.
"I voted Liberal, of course," said one woman, who declined to give her name. "Anyone who's got brains would do the same. The other lot [Labor] have run us into debt. Anything that was working, they crucified."
Another woman, Nancy, aged 47, agreed. "The current government is disgraceful," she said. "They've pretty well frittered all the money away, and there's nothing to show for it."
Drummoyne is in the marginal seat of Reid, where the Labor MP, John Murphy, has a 2.7 per cent majority. If the opinion polls prove correct - and they have been remarkably consistent - he will be out of a job tonight, along with many Labor colleagues in Sydney, Queensland and Victoria.
As well as smart waterside suburbs, Reid incorporates faded neighbourhoods such as Auburn, Australia's most ethnically mixed area and home to many newly arrived refugees. The broader problems facing MPs such as Mr Murphy are compounded by the fluid nature of their electorates. One-quarter of Auburn's residents have arrived in the past five years.
In one of his final interviews today, the Prime Minister, Kevin Rudd, admitted that Labor had "got stacks of things wrong", but added: "Name me one government over the years which hasn't got things wrong."
Rudd's own Brisbane electorate of Griffith, where he voted this afternoon, is under threat, according to some polls. If he loses to the Liberal National Party candidate, Bill Glasson, that would spell an ignominious end to his on-off regime - as well as mirroring what happened to John Howard in his Bennelong seat in 2007, last time the government changed.
The Liberal leader, Tony Abbott, spent the afternoon touring marginal Sydney seats, including Barton, where he was heckled by protesters criticising his aslyum-seeker policies. As scuffles broke out between demonstrators and Abbott's security officers, he bundled back into his car.
Those voting in Drummoyne included some stalwart Labor supporters. "I think they've done a lot of things right," said Shona Phillips, a 42-year-old graphic designer, who was with her two young daughters. "They apologised to Aboriginal people, they got us out of the GFC, and they put more money into education and hospitals. And I do believe we need a carbon tax."
Nathan Faulkner, 23, said: "I'm a trade unionist and a social democrat. I can't say I'm happy with the state of the party, but I don't trust Tony Abbott's industrial relations plans, whatever they are - he hasn't been very clear."