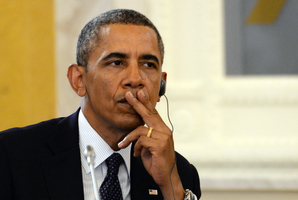 President Barack Obama is plunging into a frenetic, high-stakes week of selling a skeptical Congress on a military strike ahead of a critical vote on Syria.
The coming days represent one of the most intense periods of congressional outreach in his presidency. Obama is seeking to salvage a policy whose fate he's placed in lawmakers' hands, planning for himself and for aides a flurry of speeches, phone calls, briefings and personal visits to Democrats and Republicans alike.
The lobbying campaign culminates Tuesday, the evening before a key vote is expected in the Senate, when Obama will address Americans from the White House to make his case that the military must once again raise arms to protect a value he says the world simply cannot afford to place in jeopardy.
"Over 1,400 people were gassed. Over 400 of them were children," Obama said Friday at the close of a global summit in Russia, his voice seeming to catch as he reflected on the deaths.
"This is not something we've fabricated. This is not something that we are using as an excuse for military action," he said. "I was elected to end wars, and not start them."
A passionate debate in Congress well underway, Obama enters the fray having made some progress in his quest to win foreign support for a strike punishing Syrian President Bashar Assad for a chemical attack the US blames on his forces. Yet Obama has been unable to secure the UN backing that many nations say is needed to legitimize any military action.
The president headed home from a three-day trip to Europe wielding a joint statement from nations backing "a strong international response to this grave violation of the world's rules and conscience."
His administration said the statement signed by France, Saudi Arabia, Japan and others at the close of the Group of 20 economic summit in St. Petersburg was a clear endorsement for the limited military action the US has been publicly contemplating for weeks. Absent from the list was Russian President Vladimir Putin, a stalwart Assad ally and staunch opponent of a US strike.
Obama and many US allies blame Assad for a chemical weapons attack Aug. 21 outside Damascus in areas contested or controlled by rebels fighting Assad's government. The Syrian government denies responsibility, contending rebels were to blame.
Laying bare the challenge ahead, Obama acknowledged that the public mostly opposes a strike and that he may not persuade a majority of Americans. But without a martial response, he said, a fundamental global prohibition against chemical weapons use could unravel, emboldening other rogue leaders with ghastly weapons at their disposal and making the world more dangerous for years to come.
"I knew this was going to be a heavy lift," Obama said. "You know, our polling operations are pretty good. I tend to have a pretty good sense of what current popular opinion is."
Recent surveys show intense American skepticism about military intervention in Syria, even among those who believe Syria's government used chemical weapons on its people. A Pew Research Center poll completed last week found 29 per cent in favor of a US strike, with 48 per cent opposed and 23 per cent unsure.
Obama's top goal in the days ahead is to push the needle of public perception or, at the very least, to convince members of Congress that this is one instance where they shouldn't let opinion polls predetermine their vote.
"There are a whole bunch of decisions that I make that are unpopular," he said. "I do so because I think they're the right thing to do. And I trust my constituents want me to offer my best judgment."
The public push to build support, started in earnest last weekend after Obama decided to submit his proposal for a strike to a vote in Congress, ramped up with Obama still on Russian soil.
Lawmakers traveled to the White House on Friday for classified briefings on evidence implicating Assad's forces in the attack and Obama's proposal for a military response. His new UN ambassador, Samantha Power, gave a speech Friday at the Center for American Progress, a Washington think tank with close ties to the White House. Her predecessor at the U.N., national security adviser Susan Rice, was to expound on similar themes Monday in an address at the New America Foundation.
Other top aides were being dispatched to engage with the public and their representatives on Syria.