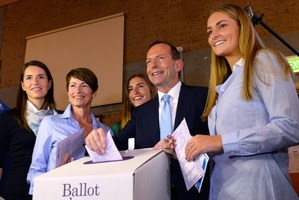 The Speedos were, thankfully, nowhere to be seen as Australia's probable next prime minister cast his vote at Freshwater Surf Living Saving Club in his beachside Sydney electorate this morning. Instead, Tony Abbott favoured a dark suit, a blue tie and a beaming smile.
A lone protester, brandishing a placard stating "Tony Abbott: Sexist Racist Bigot: Do Not Go There Australia", heckled the Liberal Party leader as he arrived at the polling station with his wife, Margie, and three daughters, Louise, Frances and Bridget.
But the mood in his Warringah electorate in north Sydney, where Mr Abbott is a volunteer lifesaver, was overwhelmingly friendly - helped by the unseasonably warm weather, with temperatures forecast to reach 27C.
The opposition leader, who plans to tour election booths until polling closes at 6pm local time, cast his own vote at 8.45am, 45 minutes after polling stations opened.
By contrast, Prime Minister Kevin Rudd was keeping a low profile this morning, as final opinion polls forecast that Labor will receive only 46 per cent of the vote, compared with 54 per cent for Abbott's Liberal-National Coalition. That would translate, according to one pundit, into 95 seats for the Coalition and 52 for Labor, with the remaining few going to independents and, possibly, the Greens MP Adam Bandt.
However, in television interviews this morning, Abbott insisted the race was still close, and urged Australians not to vote for minor parties.
He said independents had "mucked up the last parliament, and it would be a tragedy if they mucked up this one as well".
He also promised, if elected, to be "a leader who reaches out to everyone" in the mould, he said, of his conservative predecessor, John Howard, and the former Labor Prime Minister Bob Hawke.
Nearly 15 million people will vote over the coming hours, and long queues are forming outside polling stations in the eastern states.
With 54 parties and 717 candidates, voting is a lengthy exercise. In Victoria, the Senate ballot paper is more than a metre long.
Rudd will vote in his Brisbane electorate of Griffith at around lunchtime, but - despite promising to fight for every last vote - he is not expected to spend the day campaigning.
The mood in the Rudd household was perhaps encapsulated by a tweet last night from his daughter, Jessica Rudd, who wrote: "To heavy hearts tonight, there's always hope. We'll fight tomorrow and always."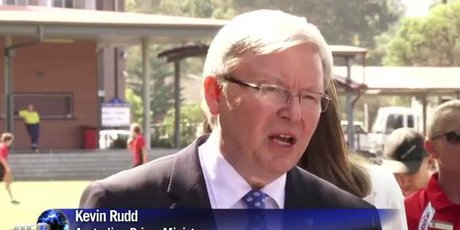 Rudd has refused to say whether Labor's electoral hopes would be different had he been at the helm for the past three years.
"One of things in political life, and like life in general, is that it should never be a case of would of, could of, should of," he told the Seven Network on Saturday.
"You work with what you have got."
Mr Rudd conceded that Labor had got "stacks of things wrong" in government.
"Name me one government over the years which hasn't got things wrong," he said.
"(Former coalition prime minister John Howard) took us to war in Iraq based on the assumption there were weapons of mass destruction."
But he said Labor had prevailed on the on the "big calls", such as protecting Australia from the worst of the global financial crisis and implementing the national disability scheme.
Mr Rudd has called on everyone to get out "exercise their electoral privilege", adding a million people failed to vote last election.
He's expected to vote around midday (AEST).
Mr Rudd sent an 11th hour reminder out to voters that Labor wasn't the only political party that had been plagued by internal divisions over the past six years.
He played down a question on whether his leadership struggle with Julia Gillard had hindered his chances of re-election, saying all parties went through internal challenges from time to time.
"In the last six years (the coalition) has had (John) Howard as leader, (Brendan) Nelson as leader, who was then removed by (Malcolm) Turnbull, who was then removed by (Tony) Abbott," he told the Nine Network.
"So let's not just pretend that internal political challenges exist on one side of politics."
Key issues facing Australians as go to the polls today:
-- The economy and jobs --
Rudd declared the economy the focus for the election and has campaigned on his centre-left Labor administration's success in keeping Australia out of a recession during the global financial crisis.
But as an unprecedented, decade-long mining boom slows, and Australia's budget deficit forecast has blown out to AUS$30 billion, the country is facing slower growth, higher unemployment and cautious household spending.
Both Rudd and Abbott claim to be the better economic managers, but Rudd has warned that Abbott will order billions in cuts that will risk throwing the economy into recession, while Abbott says Australia "cannot afford" another three years of Labor's budget blowouts.
-- Asylum-seekers --
Australia has struggled to stop asylum-seekers arriving by boat despite the prospect of lengthy detention in immigration camps, including in Papua New Guinea and Nauru, and the regular tragedy of refugees drowning en route.
The issue is considered a key one in congested metropolitan areas such as western Sydney, where voters fear migrants will take their jobs and receive taxpayer-funded welfare benefits while they struggle to pay their bills.
The government hardened its policy in July to ensure boatpeople would be resettled in PNG or Nauru, even if found to be genuine refugees.
Abbott has pledged to "stop the boats", saying he will turn them back when it is safe to do so and potentially buy boats from Indonesian fishermen to prevent them from ending up in the hands of people-smugglers.
-- Climate change/carbon tax --
Australia, a major coal exporter, has struggled with its response to climate change despite the arid continent being in the frontline for the extreme weather and other hazards forecast for a warming planet.
Rudd has promised to scrap the carbon tax brought in by Labor after the 2010 election and move to a carbon emissions trading scheme by July 2014.
Abbott has said his first priority, if elected, will be to scrap the carbon tax. His alternative "direct action" plan includes an emissions reduction fund to encourage business and industry efforts and a controversial scheme to attempt to sequester carbon dioxide in soil.
-- Social issues --
Abbott has made a paid parental leave scheme, under which women will receive 26 weeks at full pay up to a salary cap of Aus$150,000 after having a baby, his "signature" policy. Labor, which introduced a scheme that gives women 18 weeks' pay at the minimum wage, has criticised the policy as unaffordable.
Rudd, a devout Christian, has promised to introduce a bill in parliament if re-elected to legalise gay marriage. Abbott, a one-time trainee Catholic priest, does not support same-sex unions but has not ruled out a conscience vote on the issue.
- NZ Herald and AAP