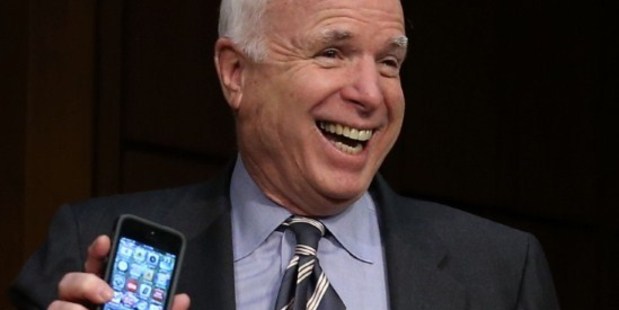 Perhaps he was thinking about doubling down in the Middle East?
Senator John McCain, a longtime advocate for forceful military intervention in Syria, was caught playing poker on his smartphone Tuesday as top administration officials testified at one of the most pivotal congressional hearings of the year.
McCain is hardly the only US lawmaker ever to seek a diversion from what can be hours of legislative debate on Capitol Hill.
But the photographic evidence of McCain making poker bets on his iPhone during the hearing itself offered a startling counterweight to the seriousness in Washington as senators debated whether to sign on to President Barack Obama's plan to bomb Syria for chemical weapons use.
"Scandal!" McCain tweeted sarcastically after an alert Washington Post photographer posted the photo that rapidly made the rounds on Twitter.
"Caught playing iPhone game at 3+ hour Senate hearing - worst of all I lost!" he quipped.
McCain, the Republican presidential nominee who was dealt a tough hand and lost the White House race to Obama in 2008, addressed his gaffe afterward.
"As much as I like to always listen in rapt attention constantly (to) remarks of my colleagues over a three-and-a-half-hour period, occasionally I get a little bored and so I resorted" to poker, a flushed but chuckling McCain told CNN.
"But the worst thing about it is I lost thousands of dollars in this game," he said, clarifying that it was "fake" money.
In developments on Syria:
|A Senate panel voted to give President Barack Obama the authority to use military force against Syria in response to a deadly chemical weapons attack, adding momentum to the White House's push to win congressional backing for a strike.
The vote in the Senate Foreign Relations Committee was the first in a series as the president's request makes its way through congressional panels before coming before the two chambers of Congress for a final vote.
The full Senate is expected to vote on the measure next week.
- AFP