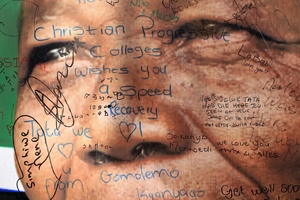 Nelson Mandela has spent his first night back home after being discharged from hospital, with his home turned into a private intensive care ward where South Africa's former President is expected to spend his "final days".
Although several of the 95-year-old's grandchildren welcomed the move as a sign of recovery, there was no official news of an improvement in his health.
He remains in a critical condition, "at times unstable" and requiring "medical interventions", according to the office of President Jacob Zuma.
But his family and doctors decided "it is now time for Mandela to be moved home to see out his final days", according to the City Press newspaper.
He was taken home by ambulance after spending nearly three months in Pretoria's Mediclinic Heart hospital, about 50km from Johannesburg, where he was being treated for a recurring lung infection.
The ambulance travelled in a convoy with police, personal doctors and several backup emergency vehicles.
When he was sent to hospital on June 8, his ambulance broke down en route.
His relocation means the family will no longer need to make the 45-minute trip to Pretoria to visit him. His wife, Graca Machel, had been spending nearly every moment at his bedside.
Jackson Mthembu, spokesman for the African National Congress, said: "We believe that receiving treatment at home will afford him continuous support from his family and loved ones."
Mandela will continue to receive care from the same doctors and nurses who were treating him in hospital.
His home in the wealthy Houghton suburb of Johannesburg, already fitted with a hospital-like clinic, has been reconfigured to allow him to receive intensive care on site. His doctors "are convinced that he will receive the same level of intensive care at his Houghton home that he received in Pretoria".
The Zuma statement said if there were health problems that warranted another admission to hospital in the future, "this will be done".
"Despite the difficulties imposed by his various illnesses, he, as always, displays immense grace and fortitude."
He was moved to Johannesburg as opposed to Qunu, the remote Eastern Cape village where he grew up and then lived after his retirement from politics, and where he wants to be buried on the Mandela family plot.