US Secretary of State John Kerry has spearheaded a drive to convince Congress to approve a military strike on Syria, saying Washington has proof the regime used sarin gas.
After President Barack Obama yesterday asked US lawmakers to approve punitive military action against the Syrian regime, Kerry warned the world cannot turn a blind eye to chemical weapons use.
Hair and blood samples from the emergency workers who rushed to the scene of last month's attack in Damascus and given independently to the United States have shown signs of the powerful sarin nerve gas, Kerry told US television channels.
"In the last 24 hours, we have learned through samples that were provided to the United States and that have now been tested from first responders in East Damascus, (that) hair samples and blood samples have tested positive for signatures of sarin," Kerry told NBC's Meet the Press.
Kerry blitzed the Sunday morning television talk shows upping the momentum in the US administration's push to build the case for US military strikes against the regime of President Bashar al-Assad.
Obama, who next week will lay out America's case to world leaders at a G20 summit, took a huge political risk in committing the fate of US action to lawmakers - moving to do so even after the British parliament voted against any military involvement in Syria.
The US commander-in-chief said he had decided the August 21 chemical weapons attack on a Damascus suburb that Washington says killed more than 1,400 people was so heinous - and such a threat to long-term US security - that he would respond with a limited military strike.
But he said he believed it was important to win support from Congress when it returns from its summer break on September 9.
His move disappointed the Syrian opposition, which pleaded with US lawmakers to "make the right choice."
"If the free world fails to respond to such an outrageous breach of international norms, dictators around the world will be encouraged in their efforts to follow the example set by Assad," the Syrian National Coalition said in a statement.
The Obama administration was Sunday briefing lawmakers again with Under Secretary of State Wendy Sherman and Under Secretary of Defence James Miller due to meet with them behind closed doors at the US Capitol.
The Senate Foreign Relations Committee will debate Syria on Tuesday and a Senate aide told AFP a vote on military force could come as early as Wednesday at 11:00 am (3.00am Thursday NZT).
Obama will be relatively confident of winning a vote in the Democrat-controlled Senate.
But influential Republican Senator John McCain, who was due to hold White House talks with Obama tomorrow, said he was not yet sure if he would support the move.
"We're in a bit of a dilemma here because I think Senator Lindsey Graham and I, and others, will be wanting a strategy, a plan, rather than just we're going to launch some cruise missiles and that's it," he told CBS television.
"But I also am aware of the failure of Congress to endorse this plan, the signal that it sends to the world, in a very dangerous world, where we've also lost enormous credibility."
He argued any US action needed "room for us to provide assistance to those who are struggling against overwhelming odds right now" to help end a brutal war which has claimed more than 100,000 lives since March 2010.
Republican Senator Rand Paul also delivered a sharp warning that Congress may reject military action amid fears the war could "escalate out of control."
"It's at least 50-50 whether the House will vote down involvement in the Syrian war," he told ABC.
"I think the Senate will rubber stamp what he wants, but I think the House will be a much closer vote, and there are a lot of questions we have to ask."
But Kerry insisted Congress would swing behind the president, warning "the stakes are too high here."
"I believe that as we go forward in the next days, the Congress will recognize that we can not allow Assad to be able to gas people with impunity," he told ABC's "This Week."
"If the United States is unwilling to lead a coalition of people who are prepared to stand up for the international norm with respect to chemical weapons that's been in place since 1925, if we are unwilling to do that, we will be granting a blanket license to Assad to continue to gas."
He also warned that a retreat from strong US positions against chemical and nuclear weapons would send "a terrible message to the North Koreans, Iranians and others" about whether America was serious about nonproliferation.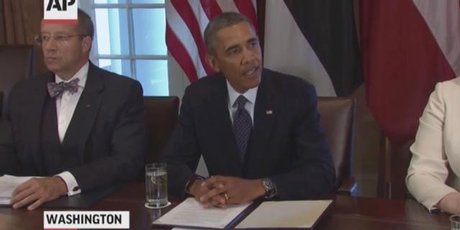 SYRIA DEVELOPMENTS AROUND THE WORLD
Here's a look at key Syria developments around the world amid heightened tensions over potential military action:
UNITED STATES:
Secretary of State John Kerry asserted the United States has evidence of sarin gas use in Syria. A day after President Barack Obama stepped back from his threat to launch an attack, Kerry said in interviews that the administration learned of the sarin use through samples of hair and blood provided to Washington by first responders in Damascus.
SYRIA:
Syria's deputy foreign minister, Faysal Mikdad, claimed that Obama stepped back from his threat because his administration lacks evidence of Syrian government involvement in purported poison gas attacks. Syria's state-run news agency SANA quoted Assad saying that his government is capable of confronting a US strike, but did not carry his exact comments.
UNITED NATIONS:
UN spokesman Martin Nesirky said that Secretary-General Ban Ki-moon asked the head of the UN chemical weapons inspection team to expedite the analysis of tests from samples collected from its visits to alleged chemical weapons attack sites in Syria. He said two Syrian government officials are observing the process as mandated by guidelines that safeguard the samples' chain of custody. Nesirky declined comment on when results were expected.
FRANCE:
Francois Fillon, France's ex-prime minister and leading figure in the opposition UMP party, said the French parliament should get the same privilege the US Congress will have to vote on Syria intervention. France's parliament is scheduled to debate the issue Wednesday, but no vote is scheduled. President Francois Hollande backs Obama's decision for a strike. The French constitution doesn't require such a vote unless and until a French military intervention lasts longer than four months.
VATICAN:
Pope Francis condemned the use of chemical weapons and called for a negotiated settlement to the civil war in Syria. Francis spoke with anguish about Syria: "My heart is deeply wounded by what is happening in Syria and anguished by the dramatic developments" on the horizon, an apparent reference to the US and France considering a military strike against the Syrian regime.
MEDITERRANEAN SEA:
Five US Navy destroyers were in the eastern Mediterranean Sea - armed with dozens of Tomahawk cruise missiles, which have a range of about 1,000 nautical miles (1,852 kilometres) and are used for precise targeting. Obama announced that "we are prepared to strike whenever we choose".
IRAN:
Iranian state TV said an Iranian parliamentary delegation in Damascus visited with Syrians allegedly injured in chemical weapons attacks that the Assad regime blames on rebels. They were also expected to meet with the Syrian prime minister and foreign minister.
ISRAEL:
Israeli Prime Minister Benjamin Netanyahu Israel's prime minister tried to soothe a jittery nation unnerved by the standoff between the US and Syria, saying Israel is "calm and self-assured" and ready for "any possible scenario." More Israelis lined up to receive free gas masks, fearing Israel could be targeted in retribution if Syria is hit by a punitive strike.
TURKEY:
Syrian refugees continued crossing the border into Turkey, despite the delay of a possible US military strike targeting Assad's government. Refugee Mohammed Yaser said arms shipments to rebels would hurt Assad more than a US strike: "If they give us weapons, we can deal with it in one week."

- AFP, AP