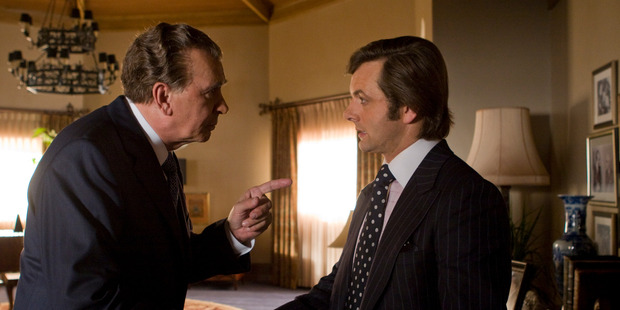 David Frost may be best remembered for his post-Watergate interviews with former President Richard Nixon, but the veteran British broadcaster was equally at ease as a satirist, game show host and serious political journalist.
In a television career that spanned half a century across both sides of the Atlantic, Frost interviewed a long list of the world's most powerful and famous, including virtually every British prime minister and U.S. president of his time. He also was a gifted entertainer, a born TV host, and his amiable and charming personality was often described as the key to his success as interviewer.
"Being interviewed by him was always a pleasure but also you knew that there would be multiple stories the next day arising from it," former British Prime Minister Tony Blair said.
Blair's former communications chief, Alastair Campbell, added on Twitter that Frost was "one of best interviewers because his sheer niceness could lull you into saying things you didn't intend."
Frost, 74, died of a heart attack on Saturday night aboard the Queen Elizabeth cruise ship, where he was due to give a speech, his family said. The BBC said it received the statement from Frost's family saying it was devastated and asking "for privacy at this difficult time." The cruise company Cunard said its vessel left the English port of Southampton on Saturday for a 10-day cruise in the Mediterranean.
Prime Minister David Cameron, one of the first public officials to send condolences, praised Frost for being an "extraordinary man with charm, wit, talent, intelligence and warmth in equal measure," while BBC executives lauded him as "a titan of broadcasting."
Frost began his career almost fresh out of college as the host of an early 1960s BBC satirical news show "That Was The Week That Was," then a pioneering program that ruthlessly lampooned politicians. The show gained a wide following, and Frost's signature greeting, "Hello, good evening and welcome" was often mimicked.
Frost was popular in Britain and just beginning to launch a career on U.S. television when he became internationally known in 1977 with a series of television interviews with Nixon.
They were groundbreaking for Frost and the ex-president, who was trying to salvage his reputation after resigning from the White House in disgrace following the Watergate scandal three years earlier. At the time, it was the most widely watched news interview in the history of TV.
The interviewer and his subject sparred through the first part of the interview, but Frost later said he realised he didn't have what he wanted as it wound down. Nixon had acknowledged mistakes, but Frost pressed him on whether that was enough. Americans, he said, wanted to hear him own up to wrongdoing and acknowledge abuse of power and "unless you say it, you're going to be haunted for the rest of your life."
"That was totally off-the-cuff," Frost later said. "That was totally ad-lib. In fact, I threw my clipboard down just to indicate that it was not prepared in any way. ... I just knew at that moment that Richard Nixon was more vulnerable than he'd ever be in his life. And I knew I had to get it right."
After more pressing, Nixon relented. "I let the American people down and I have to carry that burden with me for the rest of my life," he said.
The face-off went on to spawn a hit play, and in 2008 a new generation was introduced to Frost's work with the Oscar-nominated movie Frost/Nixon, starring Michael Sheen as Frost and Frank Langella as Nixon.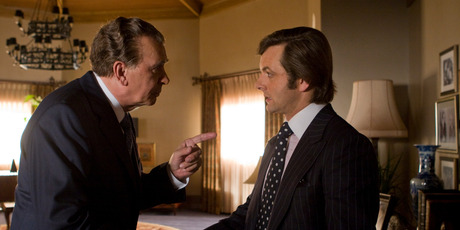 Watch Ian Fraser interview David Frost
Watch David Frost interview Norman Kirk and Jack Marshall
Frost was born on April 7, 1939, in Kent, England, the son of a Methodist preacher.
The young Frost began television hosting while still a student at Cambridge University, and soon after graduation he was approached by a BBC producer to front "That Was The Week That Was."
He went on to host a sketch show called "The Frost Report" and became a regular figure on U.S. television. Behind the camera, Frost also co-founded two television companies, London Weekend Television and breakfast station TV-am, churning out a prolific amount of programs.
Over the years his interviewees included a wide-ranging roster of politicians and celebrities, from Russia's Mikhail Gorbachev to Pakistan's Benazir Bhutto to leading entertainment figures such as Orson Welles and the Beatles.
He was the only person to have interviewed the last eight British prime ministers and the seven U.S. presidents in office from 1969 to 2008. Besides the Nixon interviews, one of the more memorable moments included a tense interview with Prime Minister Margaret Thatcher over the sinking of the Argentine warship during the Falklands conflict.
"He could be and certainly was with me both a friend and a fearsome interviewer," Cameron said.
In later years Frost kept up his probing questioning of political leaders, although some came to criticise him for being "too nice" to his subjects. Somewhat incongruously, he also hosted a game show called Through the Keyhoel that spied on the homes of celebrities from 1987 to 2008.
"His sense of humor shone through everything he did," Richard Brock, a producer who worked with Frost at Al-Jazeera, told the broadcaster. "He wasn't all heavyweight, political interviews. He really got a kick out of some of the lighter stuff."
Frost, who wrote about a dozen books, won numerous awards and was knighted in 1993. Most recently he was hosting programs for Al-Jazeera English, where he had worked since its launch several years ago.
He is survived by his wife, Carina, and their three sons.
DAVID FROST'S MOST MEMORABLE INTERVIEWS
Veteran British broadcaster David Frost set a milestone in TV history when he drew extraordinary admissions from disgraced former President Richard Nixon in 1977.
Armed with ambition, talent and a remarkable contacts book, Frost sat down with many other world leaders and the biggest names in show business over half a century.
Here are some highlights from some of his most prominent interviews.
In 2007 he interviewed then-Prime Minister Helen Clark about her views on New Zealand and its continuing ties to the United Kingdom.
RICHARD NIXON, 1977
Over almost 30 hours of interviews with Nixon, who resigned three years earlier in disgrace over the Watergate scandal, Frost pressed the ex-president to acknowledge and apologise for his wrongdoing in office. Frost managed to get the following remarkable responses.
Frost: "I think people need to hear it, and I think unless you say it, you're going to be haunted for the rest of your life."
Nixon: "I let down my friends. I let down the country. I let down our system of government and the dreams of all those young people that ought to get into government but will think it is all too corrupt and the rest. .... And I have to carry that burden with me for the rest of my life."
Frost: "So what you are saying is that there are certain situations ... where the president can decide that it's in the best interest of the nation or something, and do something illegal?"
Nixon: "Well when the president does it that means that it is not illegal."
Frost: "By definition?"
Nixon: "Exactly."
MUHAMMAD ALI, 1974
Frost interviewed the legendary heavyweight boxer, then 32, inside a boxing ring, ahead of his landmark fight with George Foreman, when most people wrongly thought Ali would lose. But Ali was animated and brimming with confidence in the interview.
Ali: "I think it is befitting that I go out of boxing just like I came in, defeating a big, bad monster that nobody could destroy ... Listen David, when I meet this man, if you think the world was surprised when Nixon resigned, wait till I whip Foreman's behind."
The boxer continued, partly talking directly to the camera, then standing up to caricature Foreman: "Listen, George Foreman, people are afraid of George Foreman. They talk about how hard he hits. The world has been deceived. You listen to me. You listen to me now, I never told you wrong. The man don't hit hard."
MARGARET THATCHER, 1985
In 1985 Frost grilled the prime minister about the sinking of the Argentine ship Belgrano by a British submarine that killed 323 sailors during the Falklands conflict.
As Frost pressed on with questions about what had happened, a visibly ruffled Thatcher sternly defended her decision to attack the ship.
After being confronted with a barrage of questions, Thatcher finally said in frustration: "Do you think, Mr Frost, that I spend my days prowling round the pigeon holes of the Ministry of Defence to look at the chart of each and every ship? If you do you must be bonkers."
MIKHAIL GORBACHEV, 1993
In an interview with the former Soviet Union leader, Frost asked about communism, his legacy, and his relationship with, and views of, Thatcher.
Gorbachev: "It was not too easy to begin with ... but I felt from the start I could deal with her. I regarded her as an outstanding woman and a major political force. I was far from sharing all her opinions. ... Many sharp words were exchanged. I could never agree to the way she felt about nuclear weapons. She was too attracted to nuclear weapons."
Frost: "Were you alike in character, do you think?"
Gorbachev, after a pause and a shrug: "That's difficult to answer. I think it's up to you to try to answer that. But she was an interesting human being."
BILL CLINTON
In an undated clip shown by the BBC, Frost was seen interviewing the former US president, asking him if he ever loved Monica Lewinski.
Clinton responded as follows: "No. I don't think that's what that was about. On either side. But I liked her very much."
- AP