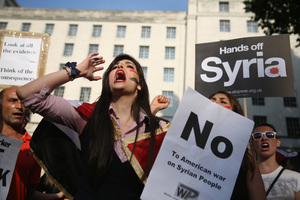 Prime Minister John Key won't rule out the possibility New Zealand would offer military support to US or British intervention in response to alleged chemical attacks on Syrians by the regime of President Bashar Assad.
However Mr Key downplayed that prospect and emphasised a United Nations sanctioned response remains New Zealand's preferred outcome while acknowledging it was unlikely due to a UN Security Council impasse.
New Zealand diplomats in New York received updates on the situation in Syria from their counterparts from a number of nations last night, and Mr Key had a "pretty detailed'' conversation with UN chief Ban Ki-Moon early this morning.
"He left me under no illusions about the seriousness and the gravity of the situation.''
UN inspectors are currently in Syria gathering evidence to try to identify who is responsible for the chemical attacks.
"They've had their people on the ground now for two days and he [Ban Ki-Moon] indicated to us that they're collecting a lot of information and evidence, but there's work to be done there and further analysis.''
Mr Key said he was aware the United Kingdom was taking a resolution for action to the UN Security Council.
"We support their actions ... we think that's the right thing to do but we wouldn't hold our breath that that would receive the unanimous support that would be required.''
While there remained the prospect the US and UK would take action without a UN mandate, New Zealand's participation in a military intervention hadn't been requested so far by either nation.
"They're not asking us to engage in support with them.''
Mr Key expected to speak with British Prime Minister David Cameron about the Syria situation shortly.
If New Zealand received a request for assistance with action that wasn't UN-mandated, "then we'd need to look at that on its merits at the time''.
Mr Key wouldn't rule out the possibility New Zealand might support such action, "but I'm not ruling it in either''.
"Our preference is the United Nations, but let's see how things progress.''