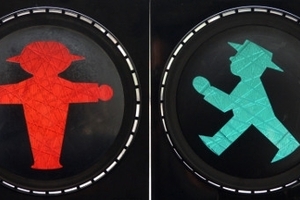 Researchers have called for the Amplemannchen to be standardised throughout Europe.
Researchers have called for the introduction of former East Germany's hat-wearing "green man" traffic light figure at pedestrian crossings throughout the European Union after conducting a study that showed pedestrians react to it more quickly than they do to Western crossing signs.
The study, carried out by Bremen University, found that the so-called flat-hat wearing Amplemannchen - which translates as "little traffic light man" - encourages pedestrians to press stop or go buttons at crossings more quickly than Western traffic icons. The figure began life in Communist East Germany 50 years ago.
"Our study shows that the East German Amplemannchen have not just become iconic symbols but are also giving their West German counterparts a run for their money when it comes to signal perceptions," Bremen University's Claudia Peschke told the broadcaster Deutsche Welle. After reunification, East Germans joked that the Amplemannchen was the only figure to have survived the Communist era.
He was adopted by traffic authorities across West Germany, where he has now replaced his more robotic counterpart used in Western Europe.
Bremen University has said that the results of its study should encourage EU traffic officials to standardise pedestrian-crossing signs with the introduction of Amplemannchen figures across Europe. It remains unclear whether the recommendations stand any chance of being realised. Markus Heckhausen, the Amplemannchen's designer, told Germany's Bild newspaper: "It's a nice idea, but nobody has asked me and I own the copyright."
- Independent