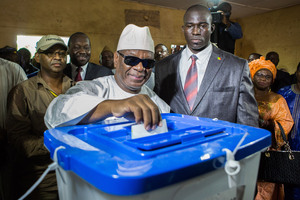 Former Malian Finance Minister Soumaila Cisse yesterday conceded defeat against ex-Prime Minister Ibrahim Boubacar Keita in the troubled country's presidential election.
"I went to see him to congratulate him and wish him good luck for Mali," Cisse said.
Electoral and security sources earlier said Keita had pulled ahead with two-thirds of votes counted after yesterday's second round of the election. The official result had not been released last night.
Keita - widely known as IBK - faced Cisse in the election run-off that provides a fresh start for the west African nation after more than a year of political turmoil, including a military coup and war.
"With nearly two-thirds of the ballots counted, IBK is well ahead," said a source close to Mali's election commission.
Unofficial estimates obtained by AFP from Malian security sources also put Keita, 68, comfortably in the lead.
But Gouagnon Coulibaly, Cisse's campaign manager, said there had been "massive fraud" during the election, without elaborating, and accused the transitional government of being "partisan" in favour of Keita.
The election, the first since 2007, was seen as crucial for unlocking more than US$4 billion ($5 billion) in aid promised by international donors who halted contributions in the wake of last year's coup that ignited an Islamist insurgency and a French military intervention.
The Government has until Saturday to make public the result of the run-off, called after none of the 27 candidates in the first round on July 28 secured an outright majority.
- AFP