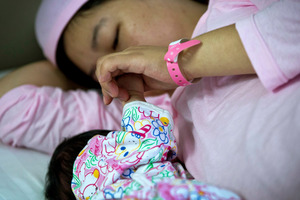 To her patients she was a grandmotherly figure, a kindly 56-year-old doctor who delivered hundreds of children.
Not only had Dr Zhang Shuxia delivered many of the children playing in the muddy streets and courtyard houses, her mother had delivered many of their parents.
But last week, a dark and terrible secret was revealed: Zhang, herself a mother of one, was stealing newborns from the county hospital where she worked and selling them on the flourishing black market.
Each time, her ruse was the same. Reducing parents to tears of grief, she claimed their newborns were terminally ill or congenitally deformed. She chose only families whom she knew well, and whom she knew would trust her without question. Her approach was so callous that she charged the families a fee for her usual service.
"When she came to us, she said our baby was dying," said Zhou Cun, 56, whose grandson was taken by Zhang in 2009.
"I thought it looked healthy, but I believed her because she was the doctor and we had a good relationship with her. She said normally they would throw the baby in a well but in this case she could arrange an old man to come and collect the baby and we just needed to pay her 50 yuan [$10]."
For at least seven years, Zhang's trade in infants went unquestioned. But last week, she was arrested with eight accomplices at Fuping's maternity hospital. Six government officials have been fired.
Zhang's unmasking began on July 16 when a couple from Dongcheng village, Dong Shanshan and Lai Guofeng, gave birth to a son.
Throughout her pregnancy, Zhang had expressed doubts over the health of the fetus, warning Dong that she had hepatitis B and syphilis and might pass it to her son.
On the night of the birth, the doctor confirmed her worst suspicions, and whisked the child away before the parents could even properly see him.
But Lai grew suspicious and took his wife to a different hospital for blood tests. When the results confirmed she was not infected with either hepatitis or syphilis, he went to the police.
No one wanted to listen. But when he and his father stood on the top of his house, above a pair of hanging red lanterns, and threatened to jump to their deaths, the police paid attention.
Scanning the hospital's CCTV, investigators saw Zhang bundling the child out of the doors. In custody, she confirmed she had sold the baby for 21,600 yuan to a trafficker.
The baby passed through two more middlemen, its price rising each time, until it was sold to a couple who were desperate for a son in Henan province, nearly 482km away.
Last week, the child was returned to his sobbing parents, in scenes that were televised across the country. The family declined to comment further as the child underwent medical treatment. "They want to carry out tests on the baby [to guarantee its health]," said Lai's mother.
Child trafficking is a huge business in China, partly because the restrictions of the one child policy have denied many couples the chance to naturally produce the society's most prized goal: a male heir.
There are no statistics for the black industry of stealing babies, but in recent years the trade has become "industrialised", according to the Chinese media, with entire villages serving as "hubs" through which children are passed.
"My own guess is that there must be around 20,000 to 40,000 children stolen every year," said Charles Custer, the co-director of Living With Dead Hearts, a documentary on Chinese child trafficking.
"In 2011, the Government said it had rescued some 8000 kids, but none of the dozen or so families we were in contact with for the film found their children."
The most valuable commodity, a healthy ethnic Han Chinese baby boy, could fetch from 40,000 yuan to 60,000 yuan, Custer said.
The authorities are often complicit in the trade; it costs only a few hundred dollars to register a new identity for a stolen child. Custer said he had come across a case in which a teenage boy had been sold as a slave to work in a brickmaking kiln.
"He escaped and found a government official whom he explained it all to. But instead of helping him, the official promptly took him and sold him to another kiln," he said.
The revelation of Zhang's crime has shattered the calm in Fuping county, which happens also to be the ancestral home of Xi Jinping, the Chinese President, perhaps explaining the alacrity with which the authorities have investigated the crimes.
"These criminals should be severely punished and all efforts should be made to rescue the children," said Lou Qinjian, the Governor of the province, as he fired the director of the county health bureau and the deputy head of the county government.