Father took small son away from village in Vietnam more than 40 years ago.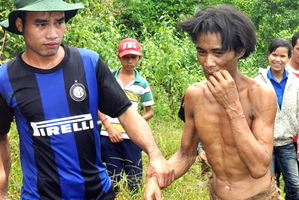 A father and son who allegedly fled war four decades ago to live deep in Vietnam's forests have been coaxed from their hideout, state media reports say.
Local television footage showed Ho Van Thanh, 82, and his son, Ho Van Lang, 42, emerge bedraggled from the remote mountainous region on Thursday in an emaciated condition, wearing loincloths made from tree bark.
Media reports said former guerrilla Thanh ran away with his then 2-year-old son Lang from a communist village in central Quang Ngai province in a grief-stricken state after the death of his mother and two of his other children in a US bombing in 1972.
Television footage showed authorities apparently taking the pair against their will from their forest home several hours' walk from his home village, with the frail old man carried in a hammock by local people while the son was pictured with restraints around his hands.
The pair were found "staying in a hut about 5m from the ground and both men were dressed only in loincloths made of tree bark," Tuoi Tre newspaper said, adding they were found with several handmade tools.
The pair can speak only a very little of their ethnic Kor language.
The men were first brought back home by a younger son in 2004, Dan Tri online newspaper said quoting local authorities, but they could not adapt to living in the village and returned to their forest home.
The pair "preferred their independent life to that of the traditional Vietnamese family", the report said.
The younger son visited them once every year, providing some necessities. But they were recently spotted by local residents and reported to the authorities who drew them from the forest, Tuoi Tre newspaper added. The men were reported to have survived on fruit and corn they had cultivated.
Lang reportedly "chewed betel and smoked continuously, glancing at everybody around him with a dull look", according to the Tuoi Tre report. The father is under medical treatment for exhaustion.
- AAP