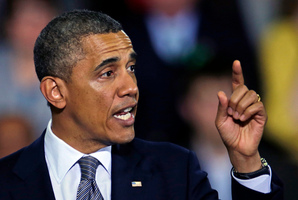 US President Barack Obama announced Thursday that he would hold a rare White House news conference the next day.
When reporters called out questions about US relations with Russia, Obama responded: "Guys, I'm gonna be having a press conference tomorrow. Why don't you ask that question tomorrow?"
The president had faced the impromptu barrage of questions just after he met Greece's Prime Minister Antonis Samaras in his Oval Office at the White House.
At his news conference, to be held one day before Obama heads off for a week's holiday in the East Coast resort of Martha's Vineyard, the president is bound to face questions on Russia.
Tensions are running high over Moscow's refusal to hand over Edward Snowden, a fugitive US intelligence contractor who is seeking asylum in Russia after leaking details of secret American electronic surveillance programs.
This week, Obama canceled plans to hold a one-on-one summit with his Russian counterpart Vladimir Putin next month before the G8 summit in St Petersburg.
And in an interview on Monday, Obama accused Russia of slipping back into "a Cold War mentality."
The US leader is also likely to find himself interrogated on domestic issues, and in particular his battles with Congress, where the House of Representatives is controlled by his Republican opponents.
Congress has managed to stymie all of the president's legislative initiatives since he was re-elected last year, and new fights are looming over the budget.
- AFP