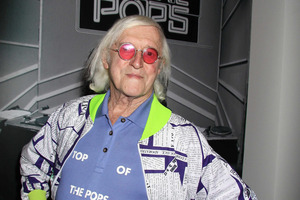 The organisers of an annual community event in Scotland have been criticised for allowing an "offensive and insensitive" Jimmy Savile themed float to enter the fancy dress parade.
One man dressed up as the disgraced former television presenter while others wore schoolgirl uniforms as part of the Lauder Common Riding event in the Scottish Borders.
Branded one of the UK's most prolific sexual predators, Savile has more than 200 criminal offences recorded against his name, including more than 30 rapes.
The Jim'll Fix It branded float was entered into the Lauder parade by members of the local Twenty 10 Club on July 31 - and was awarded third place in the Best Vehicle category.
Gregory Kynoch from Edinburgh was in the crowd and said the stunt was "inappropriate" and "out of order" on the Facebook page of the Lauder Common Riding committee the following day.
He wrote: "What I hoped would be a pleasant night and a good memory has now been tainted.
I can see a lot of work went into the parade but fear that will be the outstanding memory for all who had the misfortune to witness it.
"Humour is funny. That was just out of order."
In support of his message, Margaret Ryles also wrote a comment on the social networking site about the use of Jimmy Savile for fancy dress.
She said: "I feel there was no respect for those who were abused by this very sick sick man...and I think it was in very bad taste, offensive and insensitive."
Concern was also expressed by local politician Christine Grahame MSP whose constituency includes Lauder.
She said: "While I wouldn't want to censor anyone, I think that this has been a serious misjudgment.
"These gala days are fun, family days and I think it was in poor taste to have done this. The people involved have shown bad judgment and I hope that they reflect upon the offence that their actions will have caused to many people."
In response to the comments the organisers said: "We have never censored anyone who has entered the event. It is up to the individuals who enter and their conscience to decide how they wish to express themselves and approach the event.
"We are obviously dismayed and understand that people are upset by the coverage one of the entries has received; however, we would reiterate that the committee does not condone or condemn the individual's right to enter the parade in their own way."
You can see a photo of the float on the Border Telegraph.
- PA