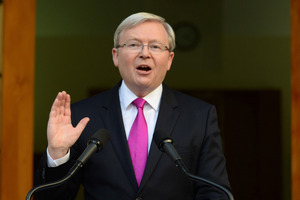 Australia is set for an interesting election in less than a month. The turmoil inside the Labor Government during two terms in power would normally consign it to oblivion. Voters worldwide hate instability and are apt to deliver harsh verdicts. Polls were certainly forecasting that outcome if Labor had persevered with Julia Gillard, a deeply unpopular Prime Minister. Remarkably, however, polls now indicate the federal election on September 7 will be close.
This reflects not only a burst of enthusiasm for Labor following Ms Gillard's unseating by Kevin Rudd but deep reservations about his challenger, the Liberal-National Coalition's Tony Abbott.
Mr Rudd enjoys a level of personal support that bears little direct relationship to his performance during his previous stint as Prime Minister. Having ousted John Howard, he managed to alienate virtually every faction of Labor by adopting a presidential style. After two and a half years, he was replaced with Labor's deputy, Ms Gillard.
Australians, though, felt the position had been usurped by a party leader for whom they had not voted. The lasting sentiment of many was not pleasure that the country had its first female leader but resentment about the way she had got to the top.
This worked very well for Mr Rudd when he, in turn, ousted Ms Gillard five weeks ago. Since then he has set about reinforcing his position with a series of measures designed to repair his predecessor's areas of weakness. A tough new line is being taken with boat people, after the signing of a deal with Papua New Guinea, while the country's much-despised carbon tax will morph earlier than planned into a lower-priced emissions trading scheme.
Mr Rudd has further enhanced his prospects by setting the election date with just five weeks' notice. That not only gives the Coalition the minimum time for campaigning, it helps to ensure the contest will be essentially between himself and Mr Abbott. He is considerably more popular than the erratic Coalition leader.
But a presidential-style campaign, unfortunately, steers the campaign away from a genuine debate on the parties' policies and ideological visions. Mr Abbott cannot escape some blame for this because during his three and a half years leading the Coalition he has failed to develop in-depth policies. Mr Rudd will therefore spend a lot of time hammering away at what he terms his opponent's wall-to-wall negativity.
All this may serve only to reduce the extent of Labor's defeat. In addition to the party's recent history of division and dysfunction, there is the problem of an increasingly volatile economy.
Labor proved an effective manager during the global recession. That was enough to win it a second term, even though Ms Gillard had to cobble together a minority Government supported by the Greens and several independents from what had been a hung Parliament.
But the slowdown in Chinese resources demand has Australia facing a more uncertain future and, according to forecasts, as many as 60,000 people becoming jobless by mid-2014.
Mr Rudd talks of Australians having to choose whom they trust to "chart a course through the choppy economic waters that lie ahead".
Their verdict may well disappoint him. Voters traditionally turn to conservative parties when economic conditions become tough.
Add that to the internal ructions and instability of the past six years and Labor faces an uphill battle to win a third term. That struggle should be all the greater given Mr Rudd's ploys to deny Australians a real contest of ideas and policies.