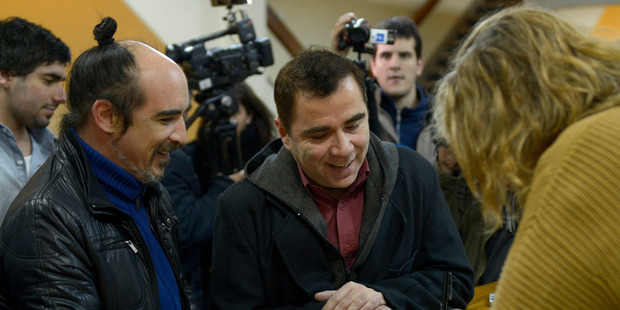 Uruguay saw its first gay marriage Monday in a rush event for a man on his death bed, as registration for same-sex nuptials began across the country.
The ceremony was held at a Montevideo hospital, after the couple side-stepped red tape that requires an approximate 10-day wait, due to an imminent risk of death.
"It was very emotional" Luisa Salaberry, the official who conducted the ceremony, told El Observador newspaper, adding that it was an intimate event attended by witnesses and relatives. The patient was very lucid, she said.
Earlier in the day Rodrigo Borda and Sergio Miranda, aged 39 and 45, became the first gay couple to register to marry.
They flashed big smiles as they addressed a gaggle of reporters upon leaving the civil registry in Montevideo where they signed up to wed.
It is "surprising and fun to see the amount of support from the media, (although) we knew this would not be ignored because we decided to go public to help with visibility," Borda told reporters.
"We are celebrating it and sharing it because this law establishes that we all have rights. There are no first- and second-class citizens," said Miranda.
The men said they will pick a date for their actual wedding later this month.
The first registrations went smoothly according to civil registry director Adolfo Orellano.
The only change necessitated by the new legislation was a change to forms that read "Mr." and "Mrs." to "partners" or "spouses," he said.
Various gay couples planned Monday to register to marry but there was hardly a "barrage" of applications, Omar Salsamendi, a Uruguay gay activist told AFP.
Salsamendi and his partner, who married in Buenos Aires in 2012, went to the registry office Monday afternoon, but were pleasantly surprised to find that the law entering into effect now recognizes their marital status.
"Until yesterday, we were not recognized," Salsamendi said.
Argentina legalized gay marriage in 2010, becoming the first Latin American country to do so.
After Uruguay allowed the nuptials with broad support from all its political parties, Brazil approved same sex marriages in May.
They have also been legal in Mexico City since 2009, although not in the rest of the country.
- AFP