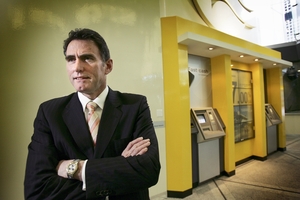 A New Zealander has been tasked with what has been described as the toughest job in UK banking.
Ross McEwan, 56, has been named chief executive of the Royal Bank of Scotland, Britain's biggest publicly owned lender.
McEwan, whose salary is reported to be 1million ($1.9million) a year, said yesterday he was looking forward to the challenge of the role.
"There is a special bond between RBS and the communities we operate in," he said.
"It is a major responsibility for me to guide this organisation."
One of the first gestures McEwan made after his appointment was to turn down bonuses for the next two years. Those could have amounted to more than 2million.
RBS chairman Sir Philip Hampton told the Daily Mirror the refusal of bonuses was a gesture: "Ross wanted to start off life as the CEO with as little pay drama as possible."
In 2008, at the height of the global financial crisis, the troubled bank was rescued with 45.5billion of taxpayer money.
Before heading to the UK, McEwan was one of the youngest chief executives in New Zealand.
He ran local operations of French insurance company Axa and held personnel-type positions at Unilever, Dunlop and National Mutual.