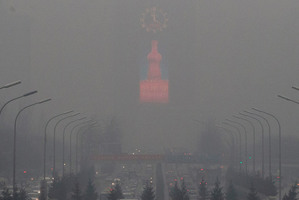 China is planning a $345 billion anti-pollution package to fight the toxic smog that shrouds large areas of the country.
Environment Minister Zhou Shengxian said Beijing would publish a five-year plan which would include a commitment to give his ministry an extra 100 billion yuan ($20.4 billion) a year.
Speaking at an environmental forum in the southwestern city of Guiyang, Zhou said the plan would focus on slashing levels of PM2.5, a minute airborne particulate linked to a host of ailments including heart and lung disease.
The plan was reportedly approved by China's State Council last month, but few details have been revealed.
It will seek ways to reduce emissions from industry and boost energy efficiency as well as working to control pollution from vehicles and improving fuel quality, according to the Xinhua news agency.
Money would also be spent on monitoring and early warning systems designed to detect pollution.
Chinese state media said industries producing large amounts of waste and pollution would be strictly controlled. The steel and cement sector would face particular scrutiny.
The environment minister has reportedly promised to promote "a shift away from coal as the main energy source", although no details of how that might be achieved were given.
China is the world's top coal consumer and producer; nearly 80 per cent of its electricity comes from the fossil fuel.