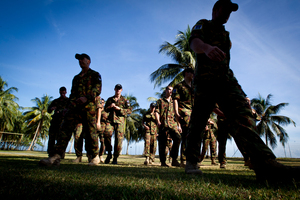 New Zealand will withdraw its military personnel from the Solomons after 10 years as part of a regional peace-keeping mission but some New Zealand police personnel will remain.
Prime Minister John Key, Police Commissioner Peter Marshall, Defence Minister Jonathan Coleman and Police minister Anne Tolley were in the Solomon Islands today to mark the 10th anniversary of the Regional Assistance Mission to Solomon Islands (Ramsi) in Honiara.
Ramsi was tasked with bringing an end to an often bloody ethnic civil war between the people of Malaita and Guadalcanal and after a decade, the military-led mission is moving to police control.
"We have made great progress but it is vitally important we continue to support the capacity and capability of the Royal Solomon Islands Police Force to ensure law and order is maintained as the country grows and develops,'' Mr Marshall said.
Some 17 New Zealand police officers serve in the Solomons as part of the international policing unit alongside staff from Australia, Cook Islands, Fiji, Kiribati, Nauru, Samoa, Tonga, Tuvalu, Papua New Guinea, Federated States of Micronesia and Vanuatu.
Dr Coleman said more than 1000 NZDF personnel had been deployed to Solomon Islands since 2003. Eight are currently serving with the Combined Task Force.
"Over the next few weeks, a small NZDF theatre extraction team will work closely with Australia to manage the Combined Task Force's departure. HMNZS Canterbury will extract equipment for return to Australia and New Zealand,'' Dr Coleman said.
Mr Key said Ramsi had done a good job.
"This transition is a clear indication of the progress made. New Zealand is proud to have been one of 15 countries working alongside the Solomon Islands Government in a co-ordinated, Pacific-wide response,'' he said.
Mr Key marked the anniversary with a gift from New Zealand of a children's playground, saying it was a symbol of looking to the future - the younger generation.
- APNZ