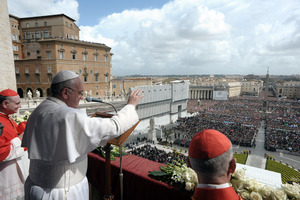 Investigators in Rome are combing through the 19,000 accounts held by the Vatican's bank in search of money laundering and other crimes, in a long-delayed attempt to clean up the institution's tarnished reputation.
The campaign to bring more transparency to the bank, started under Benedict XVI, has dramatically picked up momentum under his successor, Pope Francis, since his election in March.
The review is being orchestrated by a German banker, with forensic accounting experts from Promontory Financial Group, a risk management and regulatory compliance consulting firm.
They are analysing about 1500 accounts a month, scrutinising the client's identity, and hunting for any suspicious financial activities.
"Our work is to make the bank transparent," said Ernst von Freyberg, its new president. "The second important element is to clean up our accounts. We need to become compliant with international financial laws, including on money laundering. The Pope strongly endorses a Vatican bank that serves the Church and no one else."
The multinational team of specialists is drawing up an anti-money-laundering rulebook for the bank's 112 employees, hauling its regulations into the 21st century. The bank, officially known as the Institute for Works of Religion, has struggled to clean up its image ever since Roberto Calvi, dubbed "God's banker", was found hanging beneath Blackfriars Bridge in London in 1982, the victim of a suspected mafia killing.
Yesterday it was claimed that Italian prosecutors are looking at suggestions that the wealthy Agnelli family used the Vatican bank to transfer funds to Switzerland.