More than 120 in jail after riot over delays in processing claims, as bounty issued on people smugglers.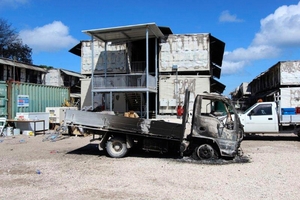 Rampaging asylum seekers have caused A$60 million ($70 million) of damage to the Nauru detention centre, with dozens arrested over the riot.
They torched newly constructed accommodation blocks, the health centre, offices, the dining room and vehicles. Only the kitchen and recreation facility remain usable.
"It is quite extensive damage," a spokeswoman for the Immigration Department told Australian Associated Press.
No staff were injured in the unrest on Friday but some residents were treated in hospital for minor injuries and some for existing conditions.
The spokeswoman said the damage was estimated at A$60 million.
She said their latest information was that 125 of those allegedly involved in this destruction were now in jail, with 58 charged by Nauru police.
With accommodation for more than 600 trashed, residents will be housed in tents erected on the site planned for a new detention facility.
"We will have temporary ablution blocks installed and temporary water supplies put in place and meals will be prepared at the original kitchen," she said.
Unrest at the Nauru detention facility started earlier last week with peaceful protests at the delay in processing asylum claims for Australian residency.
The situation escalated on Friday with about 150 of the 545 male detainees setting fire to buildings.
Immigration Minister Tony Burke said he was waiting for reports on the full extent of damage. He warned those involved that he had extensive powers to refuse or cancel visas on character grounds.
Foreign Minister Bob Carr said advice to him indicated the rioting was unrelated to Prime Minister Kevin Rudd's announcement of the new Papua New Guinea solution on Friday afternoon.
Australia said it would pay rewards of up to A$200,000 ($231,000) for information leading to the conviction of people-smugglers, as it defended its tougher approach on asylum-seekers. Rudd, on Friday, announced that refugees arriving on unauthorised boats would have no chance of being resettled in Australia, in a bid to stop the rush of asylum-seekers arriving by sea. Instead they will be sent to poverty-stricken PNG for processing. Home Affairs Minister Jason Clare said yesterday that Australian Federal Police would also pay rewards for the capture of the people-smugglers behind the boats and their associates.
"These people are peddling misery and death. We need to shut this market down. That's why we are putting a bounty on their heads," Clare said. "If you provide police with the information we need to lock people smugglers up you will receive up to A$200,000."
More than 15,600 asylum-seekers have arrived in Australia by boat in 2013, despite scores of drownings in recent years, and the issue may be key in forthcoming national elections.
Carr said that boat arrivals could top 50,000 this year as he defended the Government's toughened approach of sending would-be refugees to Papua New Guinea.
- AFP, AAP