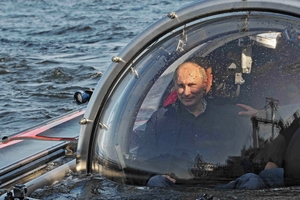 Russian President Vladimir Putin has dived to the bottom of the Baltic Sea on board a submersible to explore a shipwreck, the latest in a long line of publicity stunts.
State television showed Putin climbing aboard an underwater research vessel for the half-hour dive to the wreck of a frigate that sank in the Gulf of Finland in 1869.
"It is lying on its right side," Putin said afterwards.
"It's in a perfect state, the name of the ship can be clearly read. It's not scary, it's very interesting."
The Oleg was discovered by Russian divers in 2003 and lies at a depth of 60m between the islands of Gogland and Sommers.
Putin, 60, prides himself on keeping in peak physical condition and has performed a series of media stunts over the years.
He dived to the bottom of Lake Baikal in Siberia on board a mini-submarine in 2009.
In 2011, he announced that he had discovered two ancient urns while scuba diving in the Black Sea, but last year the Kremlin admitted the stunt was staged.
Other stunts included shooting a tiger with a tranquilliser dart and fixing an electronic tracker to a polar bear.
Last year he admitted that a lot of his photo opportunities were staged, but defended himself, saying that,although he was often ridiculed, the pictures at least raised awareness of the issues he was trying to promote.