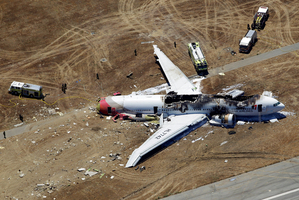 Asiana Airlines says its reputation was damaged by a report on a San Francisco TV station that used bogus names for four pilots on its plane that crashed last week that were a play on Asian names and that it is considering legal action.
An Asiana statement last night said that the KTVU-TV report "badly damaged" the reputation of the South Korean airline and its pilots. It didn't say what legal measures it is considering.
The channel has apologised. Tori Campbell, a presenter on KTVU, read the fake names on air on Saturday. Her report was accompanied with a graphic listing the names. "KTVU has just learned the names of the four pilots who were on board the flight," Campbell said. "They are Captain Sum Ting Wong, Wi Tu Lo, Ho Lee Fuk and Bang Ding Ow. And the NTSB has confirmed these are the names of the pilots on board flight 214 when it crashed ..."
The report was read out despite the names of both main pilots being confirmed last week.
After a commercial break, the anchor apologised for the error, claiming that an official at the National Transportation Safety Board had confirmed the names to the station.
KTVU followed up the broadcast with a statement on its website claiming they had not phonetically sounded out the names. The NTSB also apologised for the "inaccurate and offensive" error, blaming it on a summer intern who "acted outside the scope of his authority when he erroneously confirmed the names of the flight crew on the aircraft". Neither organisation commented on where the hoax names originated from.
Paul Cheung, president of the Asian American Journalists Association, released a statement saying KTVU's reporting of the names was "not only wrong, but grossly offensive". The phony names caricatured Asian names, said Cheung.
The pilots have returned to South Korea after being quizzed by US aviation officials.
They will face another probe by officials in Seoul after their medical checkup ended tomorrow, the South Korean Transportation Ministry said.
The Boeing 777 passenger jet from Shanghai with a stop in Seoul had its tail clip a sea wall at the airport and skidded out of control before catching fire, leaving three dead and more than 180 injured. Two Chinese teenage girls died immediately after the accident and another girl, also Chinese, died of injuries on Friday. She went to school with the other two victims.
Lee Kang Kuk, a pilot for about 10 years, was at the controls and in the middle of training to fly the 777, which he flew about 40 hours previously. Lee Jung Min, acting as co-pilot and the trainer, received his teaching licence for the particular aircraft a month before the accident although he had flown Boeing 777s for 3200 hours previously.
- additional reporting AFP, AP