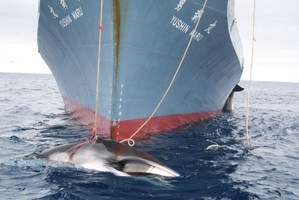 The International Court of Justice will hear arguments from New Zealand this week that Japan is breaking its agreement to hunt whales in the Antarctic only for scientific purposes.
New Zealand's intervention in the case, which was approved by the court in February, comes after a series of controversial diplomatic initiatives failed to find a permanent way to end whaling in the Southern Ocean, the International Fund for Animal Welfare (IFAW) said.
Tomorrow, the court will hear New Zealand's argument that a Special Permit issued under The International Convention for the Regulation of Whaling is legal only if:
• The permit is issued ``for purposes of scientific research''
• The number of whales to be killed is the lowest necessary, is proportionate, and does not have an adverse effect on whale stocks; and
• The views of other parties to the Convention have been considered and taken into account before the Special Permit is issued.
The New Zealand Government has contended the Japanese scientific programme in the Antarctic did not meet these criteria and was therefore illegal, IFAW said.
IFAW Global Whale programme director Patrick Ramage said Japan's scientific whaling was merely commercial whaling by another name.
"In the court of public opinion, the verdict is already in.
"Commercial whaling, whether conducted openly or under the guise of science is a cruel and outdated practice which produces no science of value," he said.
Judgement in the case was not expected to be made for a few months, but Mr Ramage urged Japan to call an end to its Antarctic whaling and avoid further "embarrassment and damage to its international reputation".
Since the global moratorium on commercial whaling was introduced in 1986, Japan has killed more than 14,000 whales in the name of science, the vast majority of these in the Southern Ocean, he said.
- APNZ