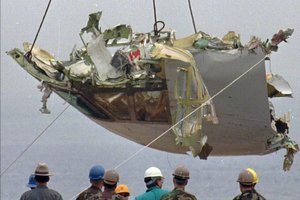 United States aviation investigators are standing by their verdict that a fuel tank explosion brought down TWA Flight 800 in 1996, ahead of a documentary that revives speculation of a missile hit.
About 230 passengers and crew died when the Boeing 747, on its way to Paris, exploded in the night sky off Long Island.
TWA Flight 800, a documentary to run on US cable channel Epix on July 17, the 17th anniversary of the disaster, reopens the argument that the jet was hit by a missile.
But senior officials at the National Transportation Safety Board said that a missile was just one of many theories that it thoroughly examined and dismissed.
"We went to the nth degree, and then some," said Joseph Kolly, director of the NTSB office of research and engineering.
Jim Wildey, a retired NTSB investigator who oversaw a detailed analysis of the sequence of events surrounding the disaster, said: "I'm totally convinced there was no bomb or missile."
The fuselage showed none of the tell-tale signs of a strike.
- AFP