Rescuers battle to reach casualties spread through two districts of Aceh province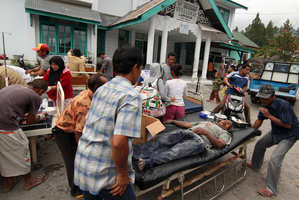 Rescuers are battling to reach survivors from an earthquake in Indonesia's Aceh province that killed at least 22 people, including several children who died when a mosque collapsed.
More than 200 people were also injured in Aceh's mountainous interior when the strong 6.1-magnitude quake struck early yesterday, flattening buildings and triggering landslides.
The quake, which struck at a shallow depth of just 10km, sparked panic in the natural disaster-prone region where more than 170,000 people were killed by the quake-triggered tsunami of 2004.
In Blang Mancung village, Central Aceh district, at least six children were killed and 14 trapped when a mosque collapsed during a Koran-reading session.
"I hope they can be found alive but the chances are very slim," Subhan Sahara, the head of the local disaster management agency, said.
Military, police and local government officials were trying to head to affected areas by ground and in aircraft but some roads were blocked by landslips.
The agency dispatched a helicopter to assist in rescue efforts, while an air force plane was also deployed to assess the damage.
"So far 22 people died, 210 people were injured, and thousands of buildings and homes were damaged in the quake," disaster agency spokesman Sutopo Purwo Nugroho said.
The casualties were spread over the two worst-hit districts of Central Aceh and Bener Meriah. Scores of people were being treated at hospitals across the region.
In Bener Meriah, about 300 people camped out overnight in open spaces, such as football fields, as the area was hit by strong aftershocks. Fauzi, an official from the local disaster agency, said many were in desperate need of food and a power outage made communications unreliable.
People ran outside in the provincial capital Banda Aceh as the quake - about 320km away - shook houses, and in Medan city to the south of the province on Sumatra island.
- AFP