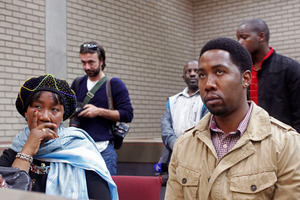 Nelson Mandela's eldest grandson was accused of illegal grave tampering yesterday as a dispute within the family grew increasingly acrimonious.
Members of the former South African President's family laid the charge against Mandla Mandela at a police station in the Eastern Cape, said a police spokesman. He said a public prosecutor would decide whether or not to press charges.
The accusations involve the bodies of three of Mandela's children, which Mandla Mandela, 38, moved from a family graveyard about two years ago.
A judge was to decide today in the Eastern Cape High Court where the bodies should be laid to rest, a ruling likely to dictate where Mandela is buried.
Mandela, aged 94, is believed to be on life support in a Pretoria hospital, where his condition has been described as "critical but stable".
He has said he wants to be buried on a hillside overlooking the home he built in his childhood village of Qunu after he was released from prison, alongside his children. However, his eldest grandson, who inherited his position as a chief in the Thembu tribe, moved the bodies to his own village of Mvezo, 20km away.
Sixteen other members of the Mandela family, including the former President's eldest daughter, Makaziwe, made the application to have the remains reburied in Qunu. She arrived in court yesterday with two of Mandela's grandchildren, including 30-year-old Ndaba Mandela, who criticised Mandla in the press.
"Mandla is a power-hungry, self-obsessed man who is only concerned about himself," he said.
Mandla Mandela has been involved in the creation of a visitor centre in Mvezo, which would benefit greatly from revenue if his grandfather was buried there.