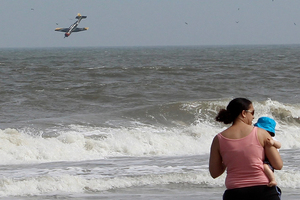 Divers have recovered the bodies of two Maryland police officers, a day after their two-seater aircraft crashed into the Atlantic Ocean.
Thomas Geoghegan, 43, who owned the single-engine Nanchang CJ-6A plane, and Joshua Adickes, 27, worked as Ocean City police officers and were off-duty at the time of the accident.
Troopers say the plane took off from the Ocean City Municipal Airport and the crash occurred nearly a kilometre offshore. The National Transportation Safety Board is investigating the cause.